Safaricom is one of the most admired companies in Kenya and was named one of the best companies to work for in Kenya.
The company is the largest telecommunications provider in Kenya, and one of the most profitable companies in the East and Central African region.
Because of the curiosity of most employees about Safaricom salaries, we have decided to give you a breakdown of this company. In this article we will answer the most frequent questions by employees:
Safaricom Salaries
Safaricom employee benefits
What does it feel like working at Safaricom
Safaricom Careers
At the end of this article, you will have a full knowledge of what Safaricom does, how they pay their employees, employee benefits and also what employees are saying about the company.
Safaricom Salaries
Safaricom employees are paid based on work experience, qualifications, and terms of the contract.
Mysalaryscale was able to get salaries of current and former Safaricom employees and this is a list of different positions of employees at Safaricom with their salaries as of 2019.
| | |
| --- | --- |
| JOB TITLE       | AVERAGE MONTHLY SALARIES |
| Managers    | 350,000ksh |
| Data Analysts | 150,000ksh |
| Senior Operations Officer | 114,000ksh |
| System Administrators  | 100,000ksh |
| Business Analyst  | 95,000ksh |
| Sales Manager | 95,000ksh |
| Customer Care Team Lead | 90,000ksh |
| Associate Advocate | 68,000ksh |
| Junior Web Developer | 50,000ksh |
| ICT Assistant | 50,000ksh |
| Customer Care Officers | 35,000-70,000ksh |
| Graduate Trainee | 45,000ksh |
| Security | 35,000ksh |
| Interns | 20,000ksh and above |
To see more Safaricom salaries, go to https://www.mysalaryscale.com/ke/company/safaricom/salary
Safaricom Employee Benefits
Listed below are Safaricom Employee Benefits:
Family and Parenting
Maternity and Paternity leave: Staff may take paid maternity leave of 4months and paternity leave of 2 weeks.
Work from home
Childcare
Unpaid extended leave
Vacation and Time off
Vacation and paid time-off
Bereavement Leave
Sick Leave
Insurance, Health and Wellness
Health Insurance
Life Insurance
Vision Insurance
Dental Insurance
Retirement
Pension plan
Performance Bonus
Retirement plan
Other perks and benefits include Professional support (job training and tuition), gym membership, employee discount.
What it feels like working at Safaricom (employee reviews)
Safaricom works 7 days a week (including holidays). The resumption time is 6:00 am – 8:30 pm daily.
Despite the act that the company has made a name in the industry, it won't be out of place to find out if their employees also agree to this.
A few inside look at company reviews posted by employees will help you know what it is like working in the company. It is necessary to know what insiders are saying about a company before you apply so that you can be aware of the happenings in the company to know if the work environment suits you.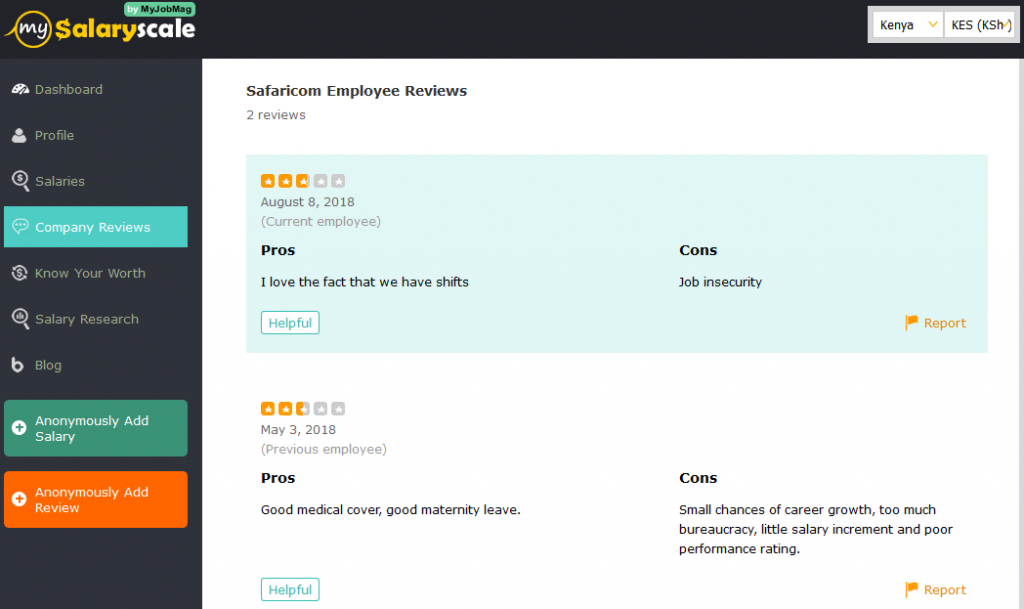 Safaricom Careers
There is an ongoing recruitment at Safaricom. To apply for Safaricom jobs go to https://www.myjobmag.co.ke/search/jobs?q=safaricom
Note that this information is based on employees' input on Mysalaryscale website.
Are you working here? Help people know more about your company by telling us about your experience at Safaricom.