Sales and Marketing remains one of the jobs that last forever because no organization can do without sales and marketing professionals.
Even though the digital age has introduced obstacles for sales and marketing, it has also brought out countless new opportunities for sales representatives and marketers to connect with clients effectively.
In this article we are going to discuss and answer questions from people who are interested in going into this career path and those who are already in the system to keep them abreast of what to expect and what it all entails;
What sales entail
What marketing entails
Sales and marketing salaries in Kenya
Difference between sales and marketing
Why you should consider sales and marketing
Skills needed for sales and marketing
Where to find sales and marketing jobs
What Sales Entails
Sales have to do with all operations that entail promoting and selling goods and services. It doesn't only involve making sales but also, building relationships to help create trust between a buyer and a seller.
Sales people generally understand the needs of buyers and so they develop persuasive strategies to help explain the company's product. They also improve client retention by keeping in touch with existing clients.
Read more about sales job description
What Marketing Entails
Marketing involves promoting, selling and distributing products or services.
The responsibilities ranges from creating awareness, engaging customers, and converting potential customers to known leads, and retention.
Read more about marketing job description
Difference between Sales and Marketing
Most people believe that sales live under marketing's directive. And for too long, people have been calling selling 'marketing', which it is not.
While sales and marketing are being used sometimes interchangeably, other people may still differentiate both based on the organization. Let us take a look at these differences…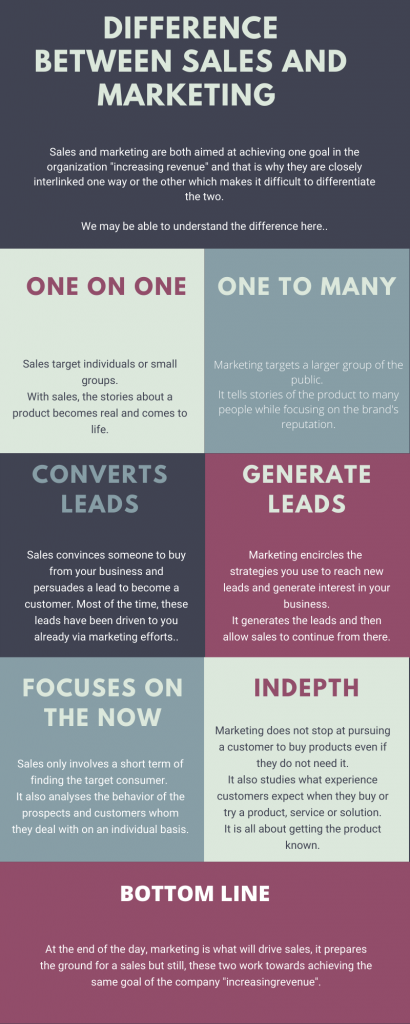 Different Job Roles in Sales and Marketing and their Average Salaries
Most people think that employees in the sales department of a company are usually paid based on commission, but this is not true as there are some companies where sales team are paid basic salaries and the essence for that commission is to reward hard work based on how well they worked to generate money for the company.
Here are the average salaries for sales jobs in Kenya:
Sales Representative Ksh36,000
Sales Executive Ksh37,000
Sales Agent Ksh31,000
Sales Manager Ksh215,000
Sales Officer Ksh39,000
Sales Consultant Ksh45,000
Sales and marketing representative Ksh43,000
Sales and Marketing Manager Ksh97,000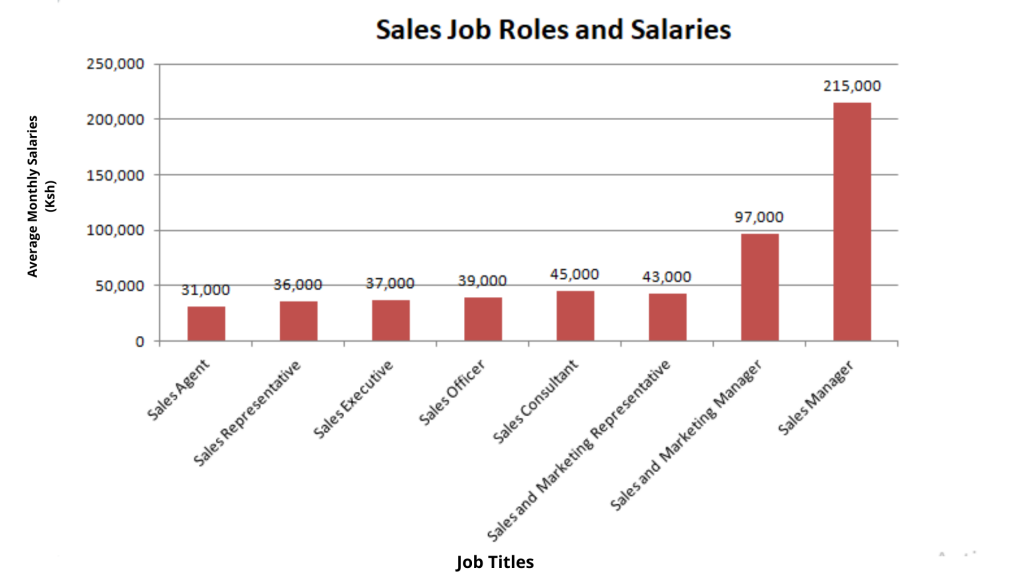 Marketing Job Roles and Salaries
Marketing Assistant Ksh31,000
Marketing Officer Ksh43,000
Marketing Associate Ksh165,000
Marketing Manager Ksh143,000
Skills Needed For Sales and Marketing Professionals
Selling or promoting any product, idea, or service cuts across personal qualities and so many sales and marketing skills. Understanding your audience and being able to analyze what they really want should be your first step, then moving further to know what they feel about the product will help you understand what aspect of the product is most appealing to them.
The skills needed for sales and marketing include analytical thinking, customer service, selling, negotiation, creativity, public speaking, stress management, and decision making.

Why You Should Consider a Career in Sales and Marketing
Sales and Marketing are challenging but at the same time, rewarding. People who are into this field and doesn't change career at some point, are the people who really know what it entails. The more you challenge yourself to do better, the more you are rewarded (these rewards can come in the form of commission, annual bonuses, prizes, and other incentives. And that is one of the most important motivators while working.
Sales and marketing give you an opportunity to learn, grow and develop your skills – so while you are able to follow up on trends, you'll also develop and master skills that can help you thrive in any other area of your professional life.
Networking – as a sales and/or marketing professional, you get to meet different people from different works of life, mix with a wide variety of people, learn more from them and stay updated with new trends in the field and be more informed about the changes occurring within your career.
Most organizations allow sales and marketing professional to set their daily schedules and activities and for those who use their time effectively, the end result is awesome. So this can offer the opportunity to do other necessary things that may not be work-related but still meet up to expectations at work.
Boosts transformation – sales and marketing helps you think beyond the line, adapt to new changes in the system and create new approaches to different problems.

Conclusion
The heart of every business lies in sales and marketing, and most aspects of businesses depend on sales and marketing strategies.
Marketing and sales also have to work hand in hand in organizations because without marketing, sales may crash. So going into this field as a sales or marketing professional, you should bear in mind that you should work together irrespective of the field you are focusing on.
Sales and marketing professionals are the only ones who can get employed in any sector as there are so many job opportunities out there for them plus the sales and marketing income potential can be unlimited depending on the company.

You can apply for sales and marketing jobs HERE