Imagine I walk up to you and say, "Would you like to be successful?" what would your response be? I know it would be a big yes! Sure everyone wants to be successful, but success they say is relative because there are no prescribed yardsticks to which success can be measured. This is true, but you can only beat your chest and say you are successful in any society when you engage in an activity that adds value and at the same time results in a reasonable financial reward for you. In this regards, this article will focus on inspiring Nigerian females that aspire to become successful someday with our list of top 10 successful Nigerian women that made wealth by adding value to their society.
Just like we said earlier, one is truly successful when you can positively affect (empower) others with the values that you have inside. So ultimately there is no true success without "value". Yes! Talking about value may sound very theoretical and less tangible because we just want to become rich, but discovering your true value is a step forward to achieving good success.
Aspiring to becoming financially successful is off course everyone's dream, but the questions here are how do we bring our financial dreams into a reality? What are our plans of achieving that monetary goal? Are our financial activities adding value to our society or are we only keen on making money regardless of the process. Based on these questions, we have been able to compile a list of top 10 successful Nigerian women that made wealth by adding value to their society answering these questions. These Nigerian women have gained Forbes Most Powerful Women in Africa recognition at one point or the other.
This article emphasizes  the importance of creating a successful career and amassing wealth by adding value. It is important for you to note that the rankings below are based on:
The impact/value of the company on the Nigerian economy
The market value of the brand and company
The financial capacity of the company
See top 10 success women in Nigeria;
1.    Folorunsho Alakija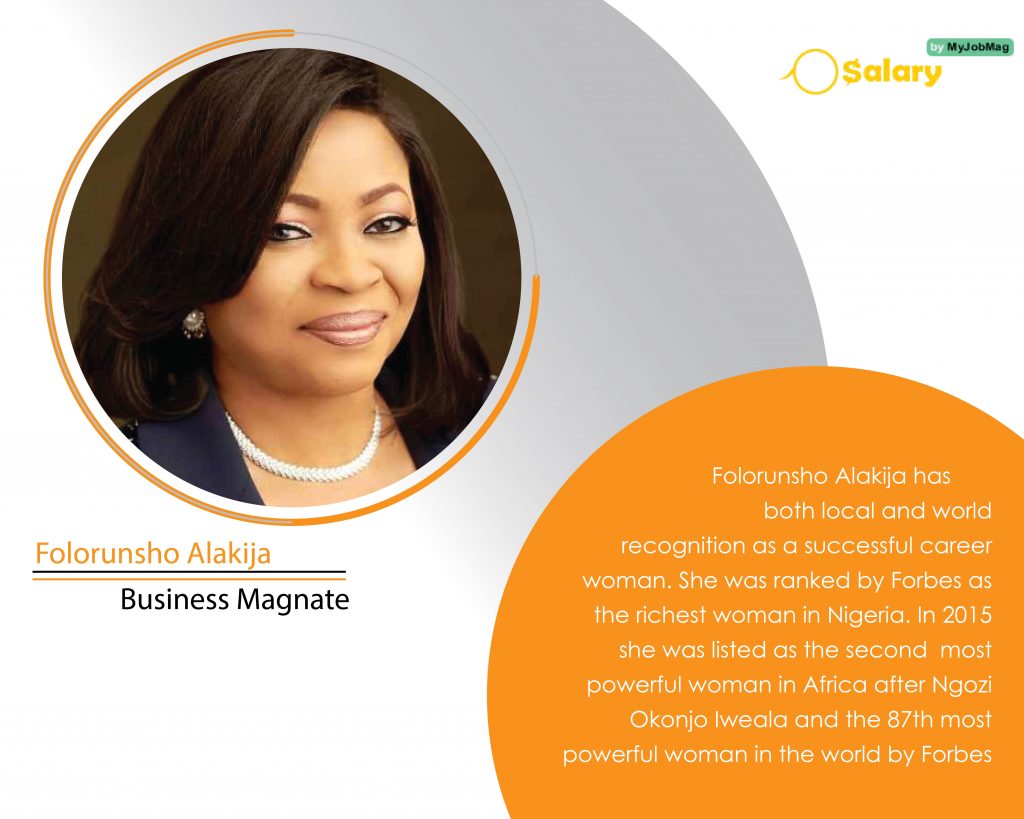 Talking about Nigerian women that have been able to build a successful career looking above any form of setback, then Folorunsho Alakija is number one on that list. She has succeeded in her career over the years without having a university degree.
She started her career as a secretary with Sijuade Enterprises at the prestigious Western House Broad Street, Lagos after completing a secretarial course at Pitman's Central College London. She later joined The First National Bank of Chicago (also known as Finbank PLC) as the executive secretary to the managing director after which she became the head of corporate affairs department of the International Merchant Bank of Nigeria and subsequently rose to the position of an office assistant to the treasury department.
Driven by her passion for fashion, she left the corporate world and went to study fashion design at the American College in London and the Central School of Fashion. After studying fashion in London, she came back to Nigeria and started her first fashion label Supreme Stiches which was later renamed The Rose of Sharon House of Fashion in 1996 which was later renamed The Rose of Sharon Prints and Promotions.
Her venture into the oil business started in 1993 when she got the oil Prospecting License (OPL). The license was granted to Famfa Company Limited. In collaboration with Texaco Nigeria Limited(later taken over by Chevron Nigeria Limited), it commenced full operation in 1996. Famfa became a full family business with her husband Modupe Alakija, she as the executive chairman, and her four sons as the executive directors.
Folorunsho Alakija has both local and world recognition as a successful career woman. She was ranked by Forbes as the richest woman in Nigeria. In 2015 she was listed as the second  most powerful woman in Africa after Ngozi Okonjo Iweala and the 87th most powerful woman in the world by Forbes. With a net worth of $2.1 billion Folorunsho Alakija is indeed a successful Nigerian woman.
2.    Ngozi Okonjo Iweala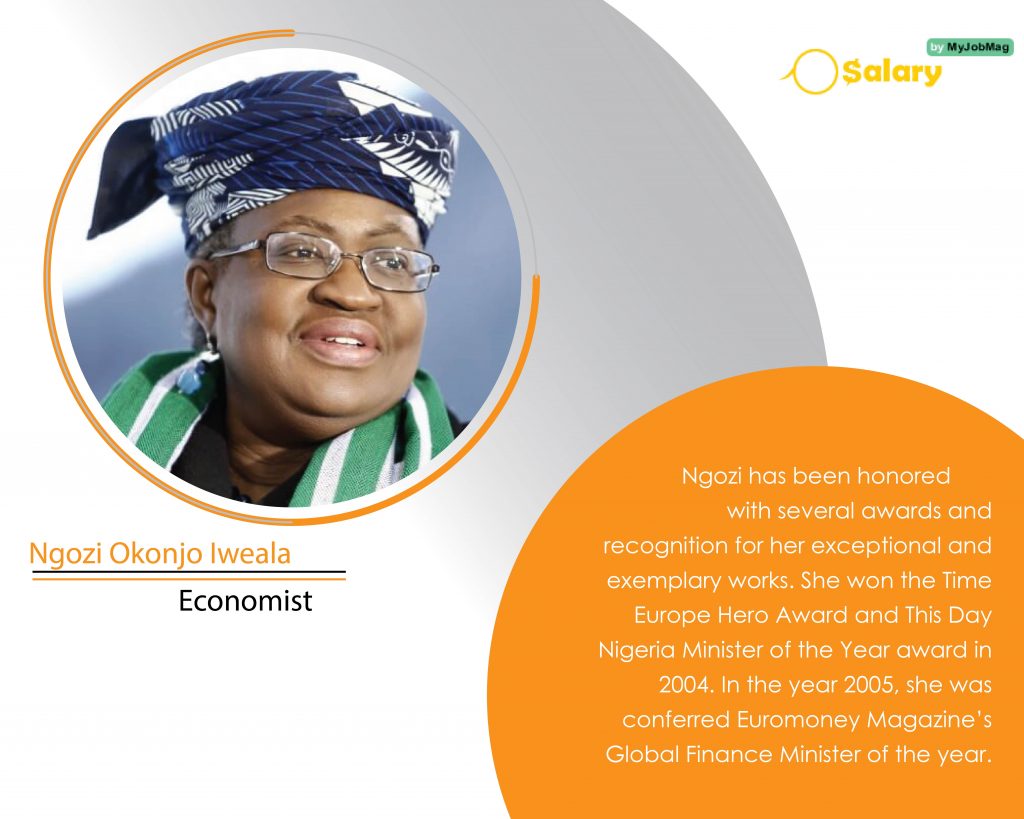 Ngozi Okonjo Iweala is one Nigerian woman that has stood and looked above setbacks to become financially successful by contributuing to the Nigerian society. With a net worth of $3 billion she has gained both local and international recognition. Ngozi is recognized as a prominent economist in Nigeria and beyond. She graduated from the International School of Ibandan and Havard University with an AB in Economics in 1976, an went on to get her PhD in regional economics and development from MIT in US in 1981 and an International Fellowship from the American Association of University Women (AAUW).
Dr Okonjo is both a graduate of International school of Ibadan and Harvard university with an AB in Economics in 1976, PhD in regional economics and development from MIT in US in 1981 and an International Fellowship from the American Association of University Women (AAUW). After her years of education, she worked in the World Bank for many years as the Corporate Secretary and the Vice President. In 2003, she resigned her job when she was appointed the finance minister in Nigeria by President Obasanjo.
In the year 2007, she was appointed the Managing Director of World Bank. Later in 2011, when President Goodluck Jonathan came into power, she once again returned to the post of Finance Minister. Dr Okonjo-Iweala is currently a senior adviser at Lazard and serves on the boards of the Rockefeller Foundation and the Center for Global Development, among others. She is also the chair of African Risk Capacity. She has recently been appointed by one of the social media giant of our time "Twitter".
Ngozi has been honored with several awards and recognition for her exceptional and exemplary works. She won the Time Europe Hero Award and This Day Nigeria Minister of the Year award in 2004. In the year 2005, she was conferred Euromoney Magazine's Global Finance Minister of the Year Award and Financial Time's African Minister of the Year Award. She won the Silverbird Woman of the Year award in 2012. She has been presented with Honorary Doctorate degrees by a number of colleges and universities around the globe. Ngozi Okonjo Iweala is indeed an African personality that every Nigerian woman can draw inspiration from.
3.    Ibukun Awosika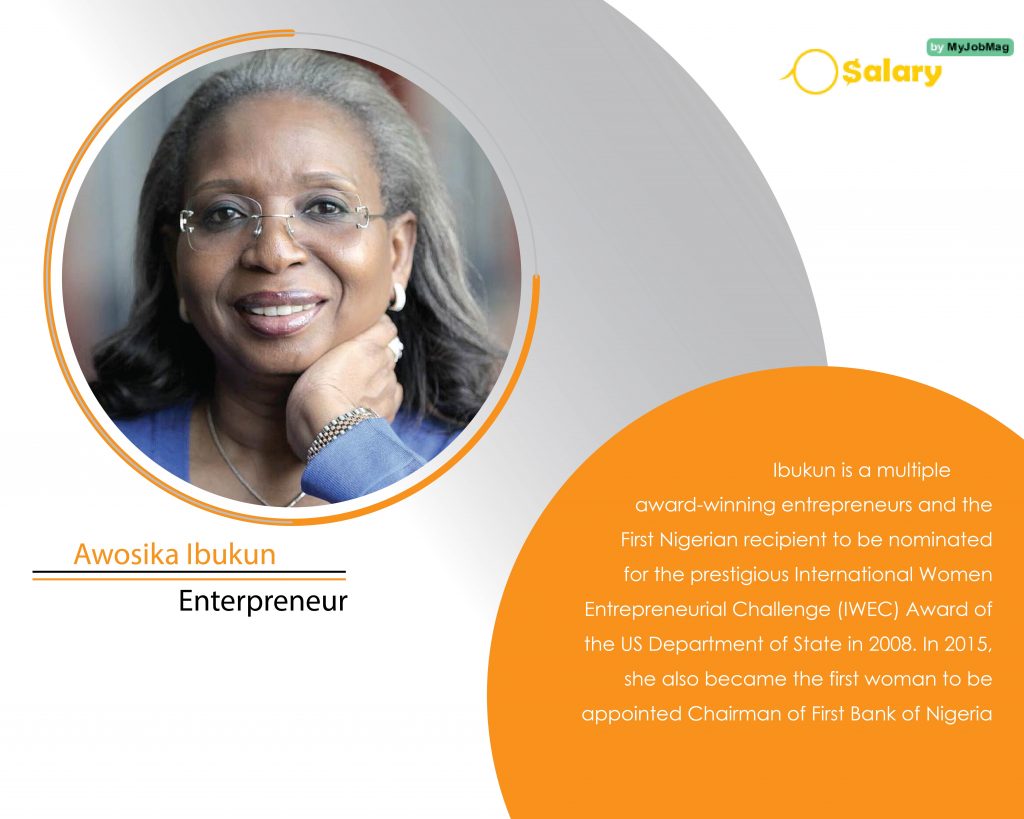 Ibukun Awosika is one of the most successful female entrepreneurs in Nigeria that refused to be pulled down by the fear of the female career limitation in the country. Ibukun started pursuing her and business early in life during her NYSC period where she worked as an audit trainee at Akintola Williams & Co. After her service year, she worked as a showroom manager at Alibert Nigeria Limited.
With her strong zeal for entrepreneurship, she went ahead and founded her furniture manufacturing company named Quebees in 1989 which eventually evolved into The Chair Center Limited which one of the biggest furniture company in the industry. She, later on, did a joint venture with SOKOA S.A and Guarantee Trust Bank in 2004 which SOKOA Chair Center Limited.
As a result of her professionalism and business knowledge, Ibukun Awosika sits on the board of several companies like; Cadbury Nigeria Plc, Convention of business integrity, and Digital jewels Limited. She is also the Chairman, Board of Trustees of Women in Management and Business (WIMbIZ). With a net worth of $18.6 million Ibukun has contributed immensely to the economy of Nigeria.
In addition to her achievements, she is a multiple award-winning entrepreneurs and the First Nigerian recipient to be nominated for the prestigious International Women Entrepreneurial Challenge (IWEC) Award of the US Department of State in 2008. In 2015, she also became the first woman to be appointed Chairman of First Bank of Nigeria. Ibukun Awosika is indeed a successful Nigerian woman.
4.    Hajiya Bola Shagaya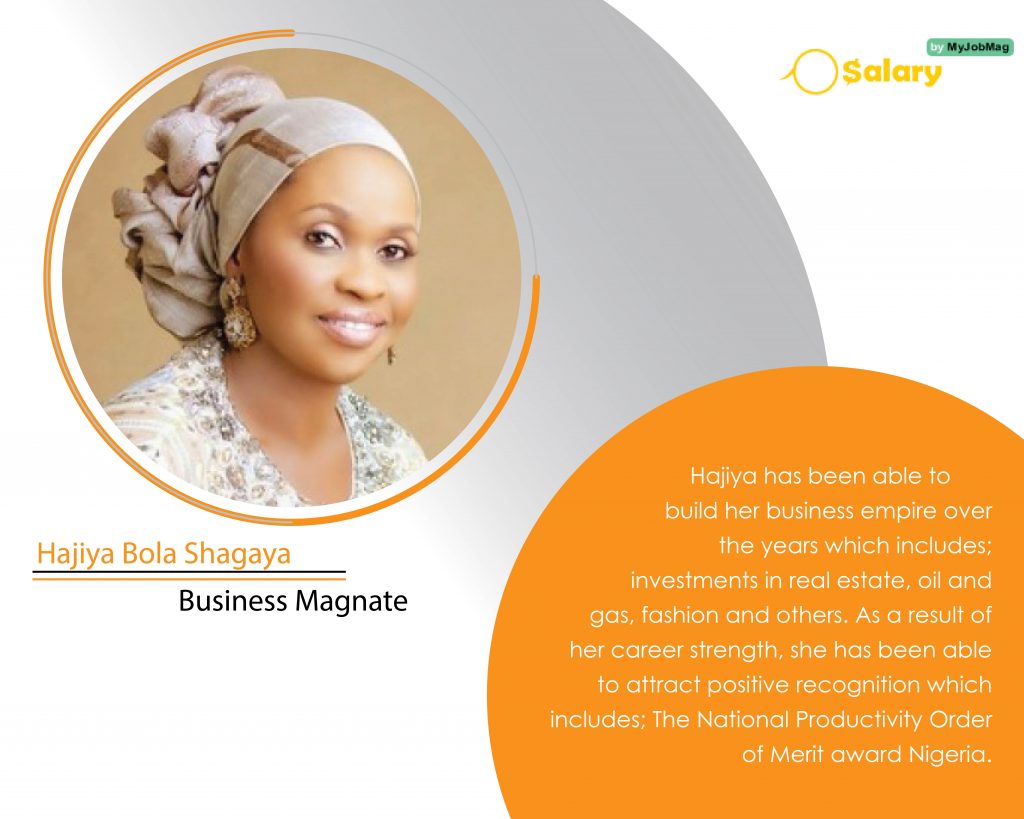 As a quintessential business leader in Africa and the rest of the world, Hajiya Shagaya is one out of the few Nigerian women that have been able to succeed in their careers by adding value to her society.
Hajiya started her career after her tertiary education at Ahmadu Bello University Zaria, and Armstrong College in California. She started out with the audit department of the central bank of Nigeria after which she went into business. Her business commenced with the importation and distribution of photographic materials. Later on, she went on and registered fotofair in 1997 which became one of the biggest photo laboratories in Nigeria.
Hajiya later became the managing director of Practoil limited one of the largest importers and importers and distributors of base oil in Nigeria.
Hajiya has been able to build her business empire over the years which includes; investments in real estate, oil and gas, fashion and others. As a result of her career strength, she has been able to attract positive recognition and awards to herself which includes; The National Productivity Order of Merit award by the president of the federal republic of Nigeria, Dr. Good luck Ebele Jonathan (GCFR).  With a net worth of $630 million, Hajiya Bola Shagaya is indeed a career icon for  every woman in Nigeria.
5.    Mosunmola Abudu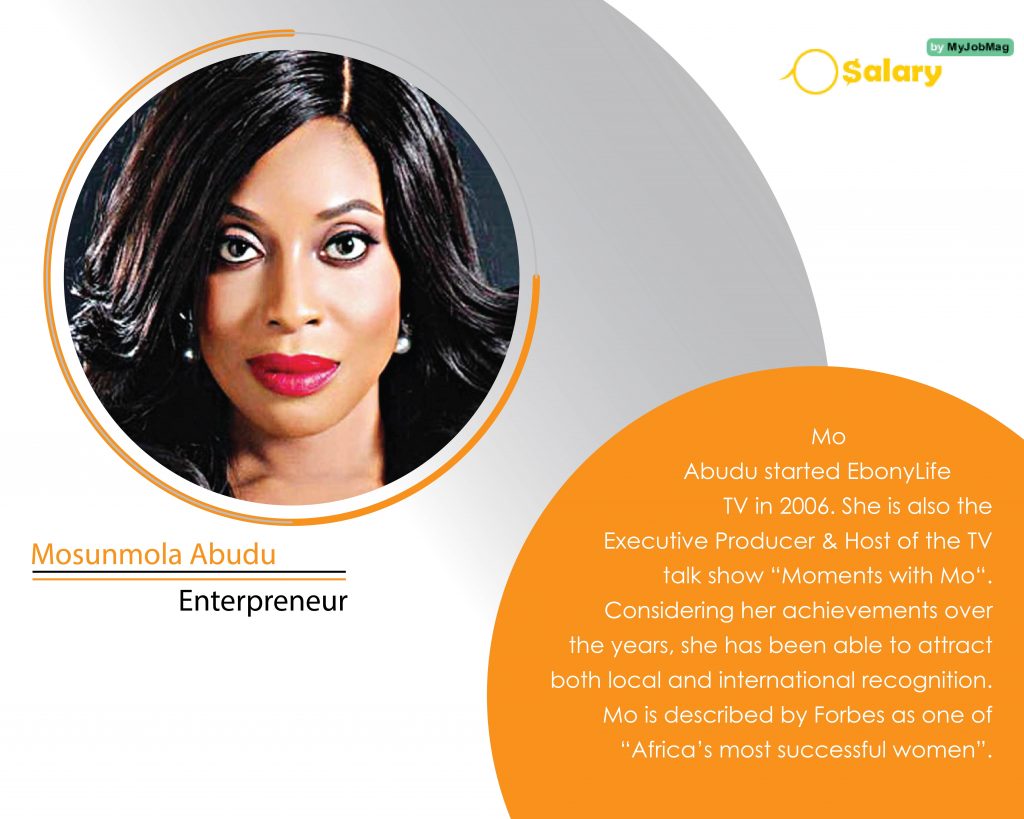 Mosunmola Abudu popularly known as Mo' Abudu is one of the strongest career women in Nigeria that has been able to build a successful career breaking the wall of society that prevents women from attaining great career heights. She has made a name in Nigeria by positively impacting her generation by creating jobs. With a net worth of $1.7 billion Mo abudu can be truly described as successful.
"Mo" started her career working as a recruitment consultant in the United Kingdom. After which she went on to work for Esso Exploration & Production Nigeria Limited (Exxon Mobil) as the head of their Human resources and Training Unit. Driven by the passion she established her own specialist human resources development company (Vic Lawrence & Associates Limited in 2000. With her burning love and interest to impact people, Mo Abudu started as executive training center at the Protea Hotel Lagos.
Mo Abudu started EbonyLife TV in 2006. She is also the Executive Producer & Host of the TV talk show "Moments with Mo". Considering her achievements over the years, she has been able to attract both local and international recognition. Mo is described by Forbes as one of "Africa's most successful women".
Mo Abudu is an entrepreneur, media personality, talk show host, TV producer, human resource consultant, founder of EbonyLife TV and The Inspire Africa Foundation.
6.    Uju Ifejika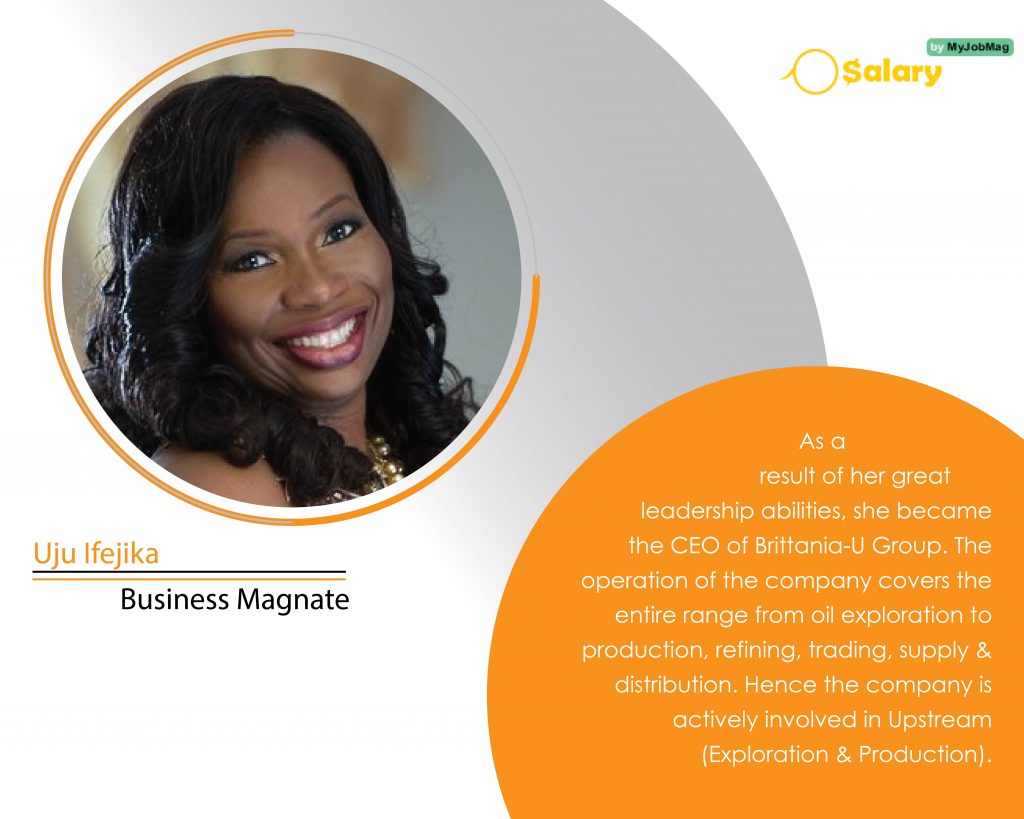 Uju Ifejika has proven to be one of the outstanding Nigerian career women of our time that decided to succeed against the setbacks that the Nigerian society may pose. She started her career pursuit at the position of junior counsel. In 2003 she became secretary for Public and Government Affairs for West Africa. She founded other companies like; Data Appraisal Co. Ltd, Nexttee Oil & Gas Trading Co. Nigeria Limited and Brittania-U Ghana Limited.
As a result of her great leadership abilities, she became the CEO of Brittania-U Group. The operation of the company covers the entire range from oil exploration to production, refining, trading, supply & distribution. Hence the company is actively involved in Upstream (Exploration & Production), Downstream (Supply & Trading), Shipping and Sub-Surface Engineering Affiliate Companies.
Mrs. Ifejika previously worked in the oil and gas industry for 20 years in Texaco, which later merged with Chevron, rising from junior counsel up to regional company secretary before retiring early to focus a building an enterprise for herself,  with a net worth of $18.6 million Uju Ifejika is a successful Nigerian woman to be reckoned with.
7.    Funmi Iyanda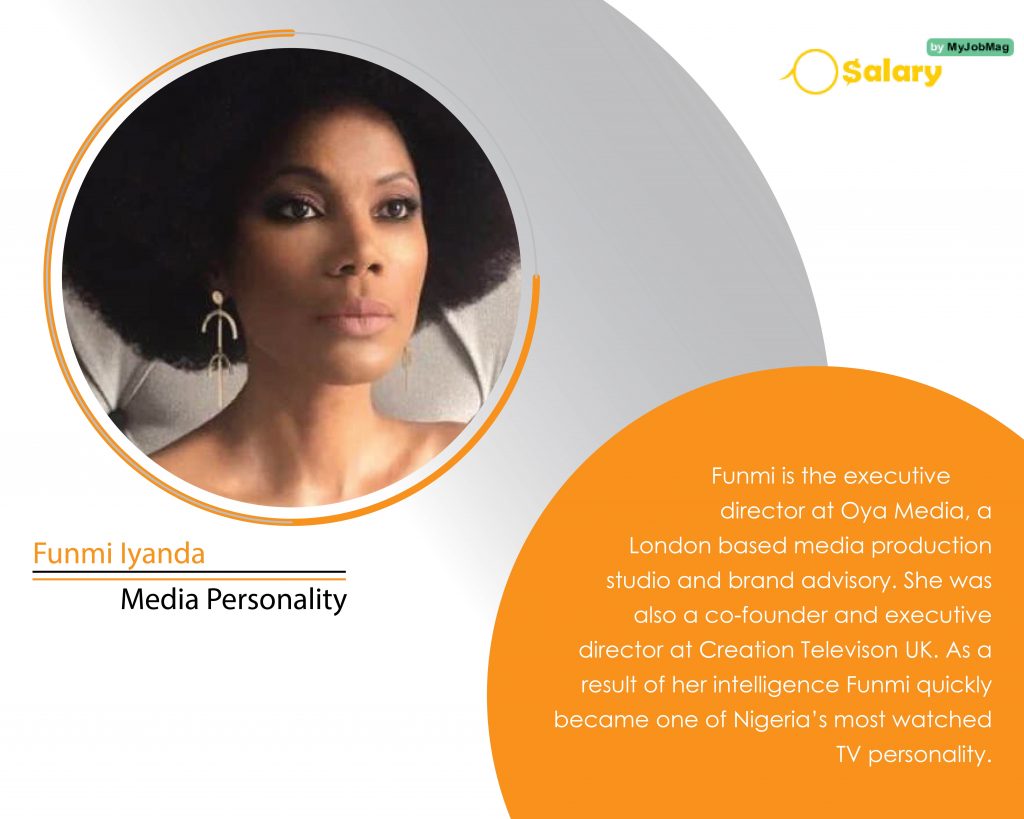 Funmi Iyanda is one of the most successful media personalities in Nigeria. She started her career after graduating from the university of Ibadan where she studied pharmacy. She delved into the media industry and has gained recognition for herself.
With her love and passion for media, Funmi has produced a host of internationally nominated productions namely My Country Nigeria, a 3 part series commissioned by BBC, and nominated for "Best News Documentary".
Funmi's shows like Talk with Funmi (TWF) and others have been generally acknowledged throughout Africa. Over the years, she has she has successfully started up four media companies which in addition to her own shows, have produced numerous TV documentaries, shows, events and special communications projects for media organizations and clients. During her tenure as CEO of Ignite Media, the company turned over $6 million in two years.
Funmi is the executive director at Oya Media, a London based media production studio and brand advisory. She was also a co-founder and executive director at Creation Televison UK. As a result of her intelligence Funmi quickly became one of Nigeria's most watched TV personality.
She has also won a lot of recognition for herself for her exceptional work in media. She was honored as a World Economic Forum Young Global Leader and also recognized by Forbes as one of the 20 powerful women in Africa. She is also an honorary fellow of the university of Cumbria amongst others. With a net worth of 312 million, Funmi is indeed a powerful career woman.
8.    Ndidi Nwuneli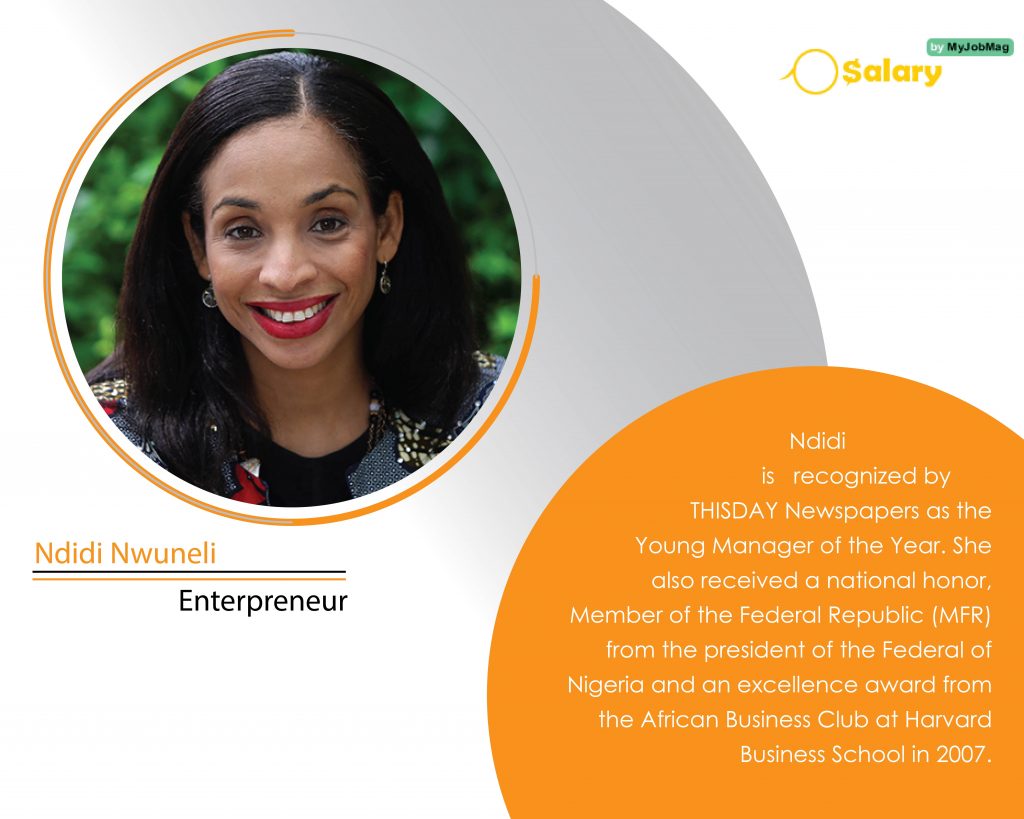 As a successful Nigerian woman that seeks to break the barriers of success for female entrepreneurs in Africa, Ndidi Nwuneli has been able to build a successful a career over the years. She was raised in Enugu where she attended primary and secondary school. After her study in multinational and strategic management at the whartson School of the University of Pennsylvania, USA she started her career as a management consultant with the prestigious McKinsey & Co.
With her love and concern for Africa, she decided to move back to Nigeria to invest in formal leadership development and training for youths. She began FATE Foundation which aimed at creating one entrepreneur per household. After successfully developing FATE Foundation in 2000, Ndidi went on to start her own non-profit LEAP Africa in 2002 to fulfil her vision of youth development.
She has also been able to achieve a lot over the years in Nigeria that has brought her loads of recognition and achievements. She has received national and international recognition. She was named Global Leader of Tomorrow and Young Global Leader by the World Economic Forum in 2003. She was also recognized by THISDAY Newspapers as the Young Manager of the Year. She also received a national honor, Member of the Federal Republic (MFR) from the president of the Federal of Nigeria and an excellence award from the African Business Club at Harvard Business School in 2007. She was also selected as one of the Forbes 20 Youngest Powerful Women in Africa. Ndidi has certainly reshaped Africa with her amazing works.
9.    Oby Ezkwesili
Oby Ezekwesili is one female African personality that every woman in Nigeria should look up to. She has been able to climb the success ladder looking beyond every set back that tried to pull her back. Oby started her career after obtaining her master's degree in international law and diplomacy from the University of Lagos. She started her career with Deloitte & Touché, where she worked as an auditor and management and financial services consultant. From 1994-1999 she served as a founding Director of Transparency International and as a director for Africa, she also served as a special assistant to the president of Nigeria on budget monitoring, and the price intelligent unit.
Oby Ezekwesili served as a Minister of Solid Minerals Development. In 2004, she served as the chair person for the Extractive Industries Transparency Initiative and pioneered the first audit of the oil and gas sector. In June 2006, she became the Minister of Education. During her tenure as the Minister of Education, she made lots of reforms and initiative which includes "Adopt-A-Public-School Initiative in 2007"that were both useful in Nigeria and neighboring countries. From 2007 she served as the Vice-President of the World Bank's Africa Division till May 2012.
Aside her position in government, Oby has been able to attract some awards to herself which includes the award of Commander of the order of the Federal Republic (CFR). Oby Ezekwesili's career is fueled with her passion for the pursuit of transparency and accountability which is worth emulating. She is one woman that has made Nigeria proud.
10. Tara Fela-Durotoye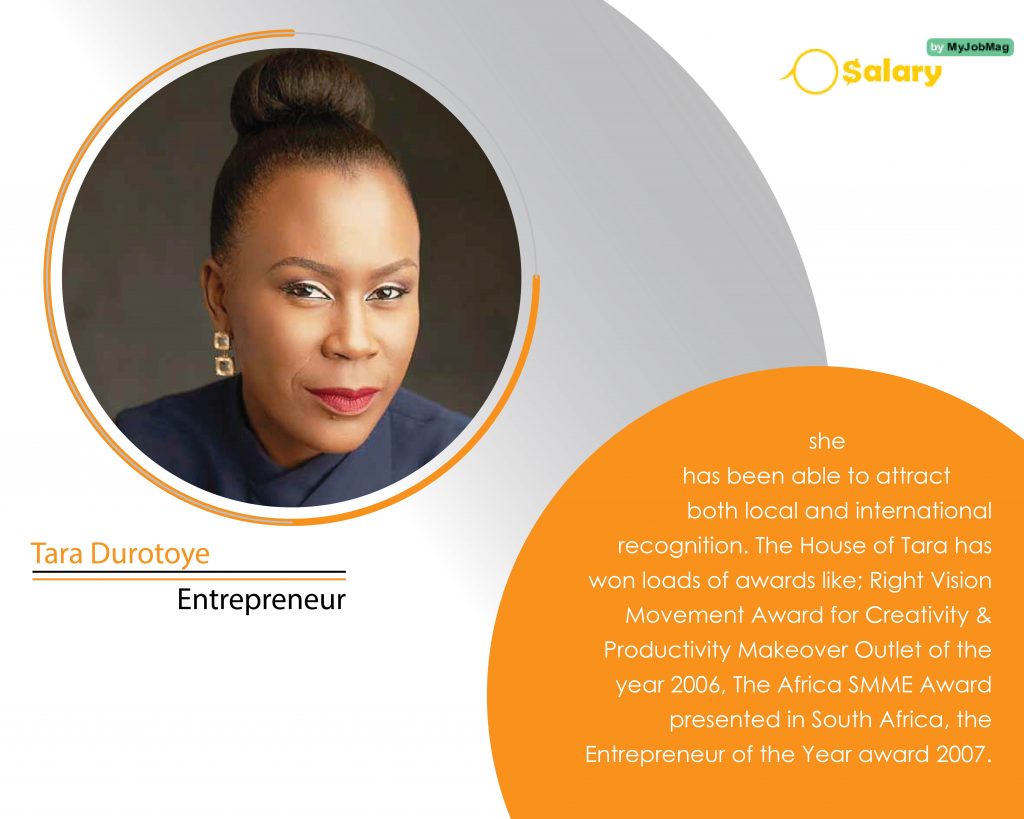 As the pioneer of the bridal make-up profession in Nigeria, Tara Fela Durotoye has been able to face challenges and surmount different hurdles to become a successful career woman in Nigeria. She started her journey in the business world as Law undergraduate in the University of Lagos where she started her business with just ₦15,000. After discovering her interest in the beauty business early enough, she went on to train as a makeup artist at Charles Fox. In 1998 she set up the house of Tara which is also known as the industry enabler, being the first to set up a beauty school in Nigeria, and has 14 outlets spread across the country.
She launched the first bridal directory in 1999 followed by the establishment of an international standard makeup studio. For a long time now, she has been able to achieve her aim of building a beauty company of African origin. She currently the CEO of House of Tara International, the initiator of the Tara Orekelewa Beauty Range, H.I.P Beauty Range and Inspired perfumes.
Apart from her achievement of her beauty product and company, she has been able to attract both local and international recognition. The House of Tara has won loads of awards like; Right Vision Movement Award for Creativity & Productivity Makeover Outlet of the year 2006, The Africa SMME Award presented in South Africa, the Entrepreneur of the Year award 2007 and the Creative Business Award of the Year, Success Digest 2008. In 2013, she was nominated as a young Global Leader by the World Economic Forum and was also named one of Forbes "Young Powerful African Women".
You don't have to look at limitations if you want to become successful in your career and life generally. Every successful person will not look at an obstacle as a defining factor to be pulled down, but they will rather look beyond any challenge and focus on the goal they wish to achieve.
These 10 Nigeria women have been able to build a successful career in Nigeria looking beyond gender and the government of the country. Their career journey should serve as an inspiration to every Nigeria female that wishes to build a successful career regardless of any challenge.