Introduction
The aviation industry is one of the most lucrative industries to work in Nigeria especially and perhaps other countries of the world. The term "Civil Aviation" deals with all non-military aviation, both commercial and private. This thus excludes the Nigerian Air force officers.
The Pilots are the fundamental personnel in the industry. Besides being a doctor, a lawyer or an engineer, every primary school boy wants to become a pilot. However, with time reality strikes and many of them sidetrack from the 'I want to be a pilot' ambition. However, few remain staunch not allowing anything to hamper their dreams, and this is how it should be.
The industry is a very profitable one because of the high volume of air traffic derived from it daily. Research has it that, the industry has about $8 billion worth of goods transported by air every day. This now relates to the reason why pilots and other cabin crew officers who are primarily involved in this transportation, are well remunerated.
Regulations and Certifications
However, there are lots of regulation in the industry and lots of certification needed to become an active officer therein. As an industry, it is one of the most regulated in the world. Every single technical personnel, equipment and airport must be certified and monitored by competent regulatory agencies known as Civil Aviation Authorities (CAAs). Even the CAAs themselves are in turn assessed by the International Civil Aviation Organization (ICAO) and other international bodies. The operating principles, guidelines and standards applied in civil aviation are based on the Standards and Recommended Practices (SARP) of ICAO and stipulated National laws and regulations.
Specifically in Nigeria, the Nigerian Civil Aviation Authority (NCAA) is the apex regulatory body, overseeing the activities of all airlines and their pilots, engineers, cabin staff, airports, airstrips and heliports, navigation aids, all service providers including the airport authority and the air traffic service provider, aviation training institutions, etc. NCAA watches over the entire industry.
The List of Local Airlines in Nigeria are as follows;
Adc Airlines Plc
Air Nigeria
Arik Airline
EAS Airlines
Aero Contractors
Allied Air
Associated Aviation
Capital Airlines
Dornier Aviation Nigeria
Kabo Air
The List of International Airlines in Nigeria
Air Nigeria
Allied Air
IRS Airlines
Air Afrique
Air France
KLMAir India
Atlantic Express
Alitalia
Bellview Airlines
China Southern Airlines
Delta Airlines
Emirates
Egypt Air
Ethiopian Airlines
Ghana Airways
Kenya Airways
Lufthansa German Airlines
Middle East Airlines
Saudi Air
South African Airlines
Turkish Airlines
Virgin Atlantic
Virgin Nigeria

Salary Structure of Pilots in Nigeria
Pilots are basically divided into fixed wings and rotary wings pilots. Generally a fixed-wing aircraft is an aircraft, which is capable of flight using wings that generate lift caused by the vehicle's forward airspeed and the shape of the wings. While, a rotor-craft or rotary-wing aircraft is a heavier-than-air flying machine that uses lift generated by wings, called rotary wings or rotor blades that revolve around a mast.
Pilots in these two wings have a different salary scale. Relatively, a fixed-wing pilot earns less than a rotary-wing pilot. He or she may start with #250,000 which is relatively low. However, as a fixed wing pilot builds his or her flying hours and progress from mere First Officer (FO) to Senior First Officer (SFO) then to Captain, they start earning slightly over $3,000 to $8,500 depending on what client their company is flying for and their type ratings.  Fixed wing offers the shortest route to becoming a Captain with less earnings. The reverse is the case for rotary wings.
It's therefore advisable for those that are about 30 years to start with fixed wings, and when they become a captain, convert to rotary wings.
At the moment in Nigeria however, helicopter pilots flying for Shell earns more than their counterparts but they would need an AW139 rating. Airline Pilots abroad could earn up to $10,000 to $25000 monthly (that's 3-7million assuming exchange rate to be 1:305). Specifically, one cannot compare an Emirates pilot salary with local Air peace pilot salary.
Generally, the salary of Pilots is based on the following;
Years of experience
Type ratings
Flying hours
The airline
Rank of the pilot
Salary of Pilots in Nigeria Based on Type Rating 
1. Commercial Pilot License (CPL)
In Nigeria today, a fresh pilot from the Nigerian aviation school with Commercial Pilot License (CPL) from the Nigerian Civil Aviation Authority (NCAA) but without Type Rating, may find it a challenge to pin down an aviation job in Nigeria. If the fresh pilot without Type Rating eventually gets a job with an airline that would be willing to send him to a Type Rating course, that pilot may earn between N200,000-N500,000 monthly depending on the airline.
2. A First Officer
Furthermore, a Nigerian pilot with type rating (a first officer) may earn between N300,000 –N800,000 and this basically depends on the airline that employed the pilot, the aircraft the pilot is rated on, and his flying hours.
3. The Authority on the Aircraft
Finally a Nigerian pilot who is a captain (the authority on the aircraft) earns between N500,000 – N1.5million monthly. The specific salary again depends on the airline and the aircraft he captains. (A Cessna captain cannot earn the same salary with a B737 captain).
Local pilots salary could be up to N350,000 to N800,000 monthly depending on ranks. While N1-2 million Naira are paid to an aircraft pilot working for international airline company.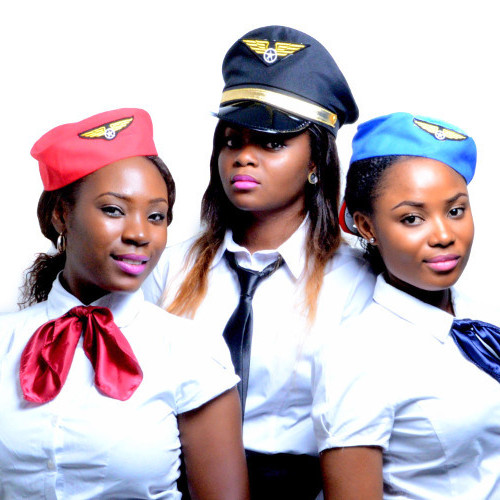 Salary of Air Hostesses in Nigeria
Being an air hostess in Nigeria is the same as most other countries, there are two ways to get the training which will either be through the Nigerian College of Aviation Technology, NCAT, Zaria, Kaduna State where you will undergo an 8-week training at about N400,000 (price varies with time) or enroll in any Aviation training centers in Nigeria that are privately owned.  A degree from a tertiary institution is not mandatory but it is an added advantage. Learning a foreign language is very vital for getting the job and customer relation skills.
Generally, Air hostesses in Nigeria get paid between N100,000 and N300,000 monthly and this is based on the airline they work for. The figure quoted however, does not include allowances and bonuses which could see the salary to vary slightly. Most of the air hostesses also get tips from passengers from time to time.