Companies with the best reviews always attract the best talent.
Knowing what employees are saying about your brand is important as it gives people an opportunity to gauge your brand.
Good reviews usually mean good workplace culture which ultimately leads to a productive workforce.
While employees want to associate with companies that have good reviews, that is the same way employee will also want to stay away from companies with bad reviews.
Reviews are an important part of employer branding, therefore, it is important that companies pay attention to what their employees are saying online and offline.
To this effect, we have selected some employee reviews on mysalaryscale and present you with the top 7 companies with great reviews online.
7 Companies With The Best Employee Reviews in The Banking Industry
Here are the top 7 with the best employee reviews in the banking industry:
Zenith Bank
Stanbic IBTC Bank
Guaranty Trust Bank
Union Bank
Access Bank
Diamond Bank
First Bank
#1: ZENITH BANK
Zenith Bank is an international financial institution founded by one of Nigeria's richest men, Jim Ovia, in 1990.
The bank has over 500 branches with about 7,070 employees.
With employee rating of 4 points, Zenith bank has been ranked the first by present and former employees with testimonies of a good work environment, professionalism, job security and opportunity to grow one's career.
See employee reviews and ratings below: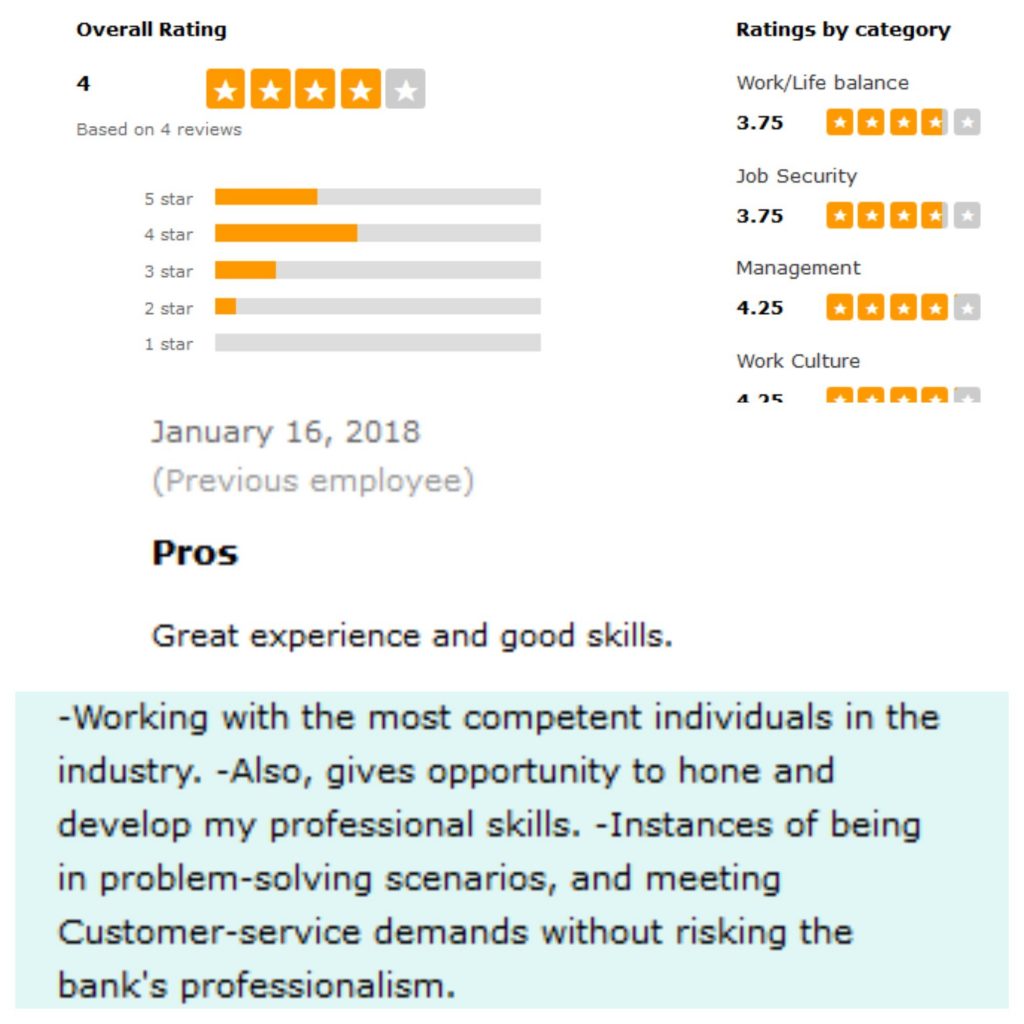 #2: STANBIC IBTC BANK
Stanbic IBTC is a leading provider of integrated financial services, pensions and wealth management products, and services. Founded in 1989 and presently has about 2,926 employees.
Stanbic IBTC won the best CEO of the year 2018 and it has a very strong ethical culture and respect for regulatory boundaries and professionalism. It also has the best career opportunity according to employees.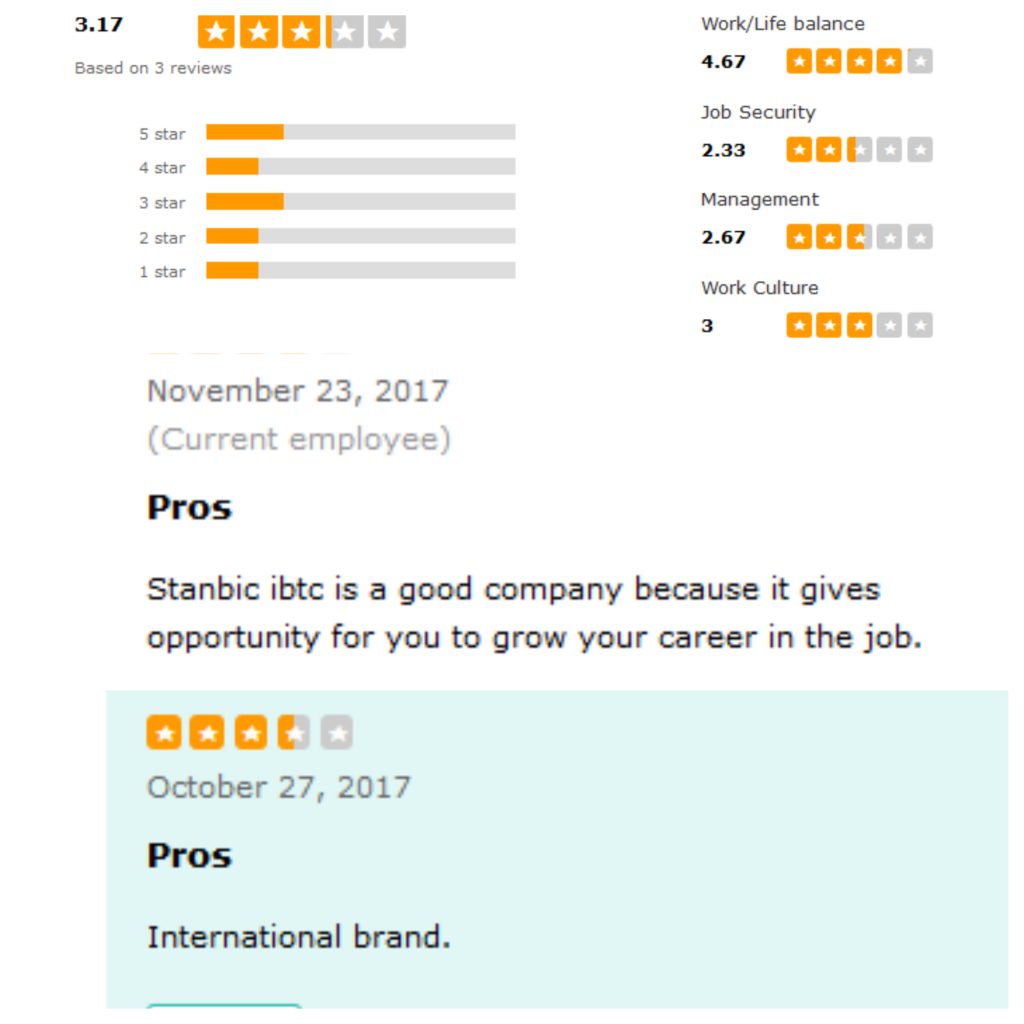 #3: GUARANTY TRUST BANK (GTB)
Guaranty Trust Bank is a foremost Nigerian financial institution. Founded in 1990 and has since been recognized as one of the most profitable and well managed financial institutions in Africa for providing quality service, ethics, professionalism, integrity, innovation and internationally accepted corporate governance standards.
The company's benefits range from employee value proposition to a great work environment and work-life balance.
See employee review below: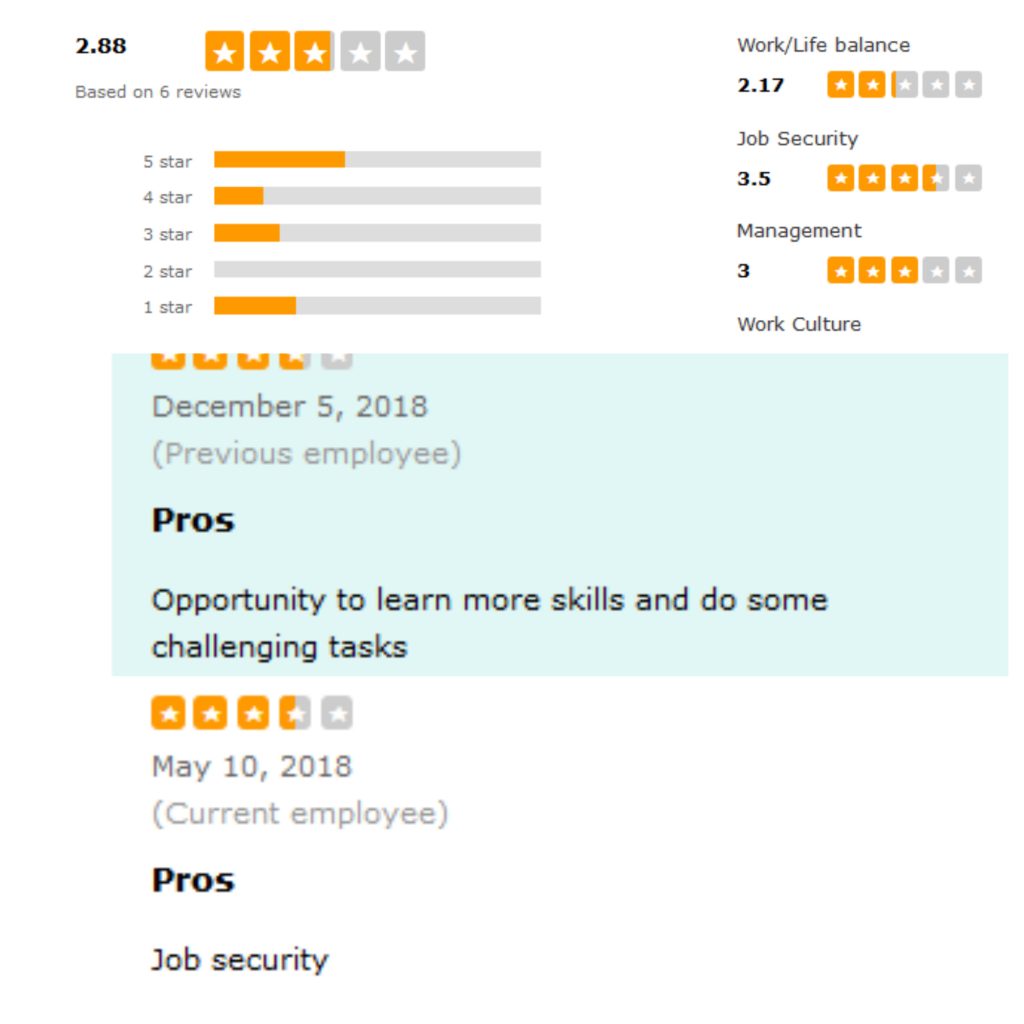 #4: UNION BANK
Union Bank of Nigeria was established in 1917, as a full-service commercial bank that caters to the retail and commercial needs of individuals, small and medium-sized companies, and major corporations.
The bank offers opportunities for advancement in career growth and has great benefits also.
Here's what employees have to say about the company;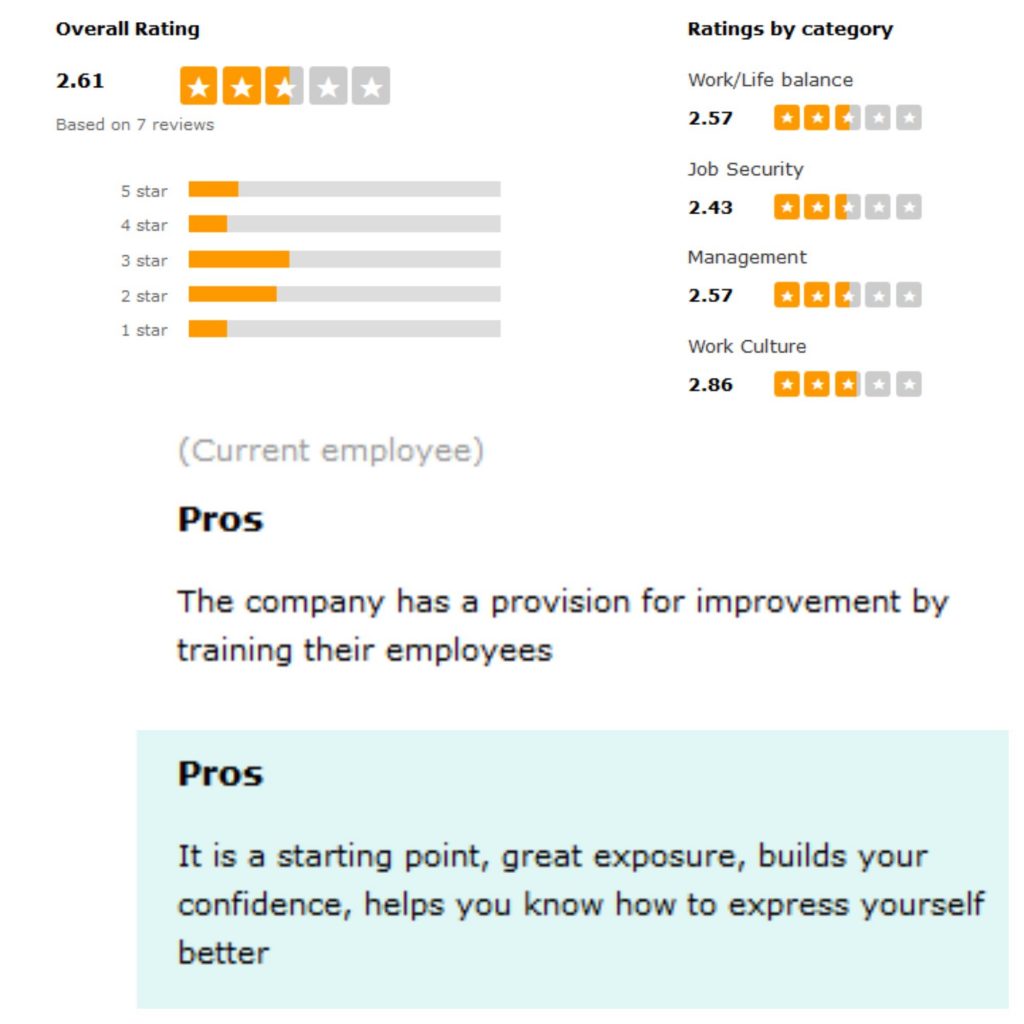 #5: ACCESS BANK
Access Bank is a multinational commercial bank founded in 1989. The bank has about 309 branches, 9000+ employees and 8 subsidiaries in Sub-Saharan Africa including the UK. And has its headquarters in Lagos.
Access bank provides their staff with the best working environment and encourages efficient work-life balance, which helps ensure that work commitments and home responsibilities are met to the highest possible standards.
See Access Bank rating below: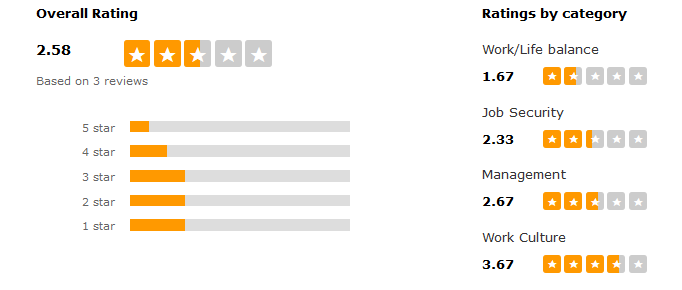 #6: DIAMOND BANK
Diamond Bank started as a private limited enterprise in 1990 and later became a public company. The bank has its headquarters in Lagos and runs over 240 branches in Nigeria with over 3000 employees.
The company is known for training and empowering young talents to help them achieve full potentials in their career path.
See Diamond Bank review below: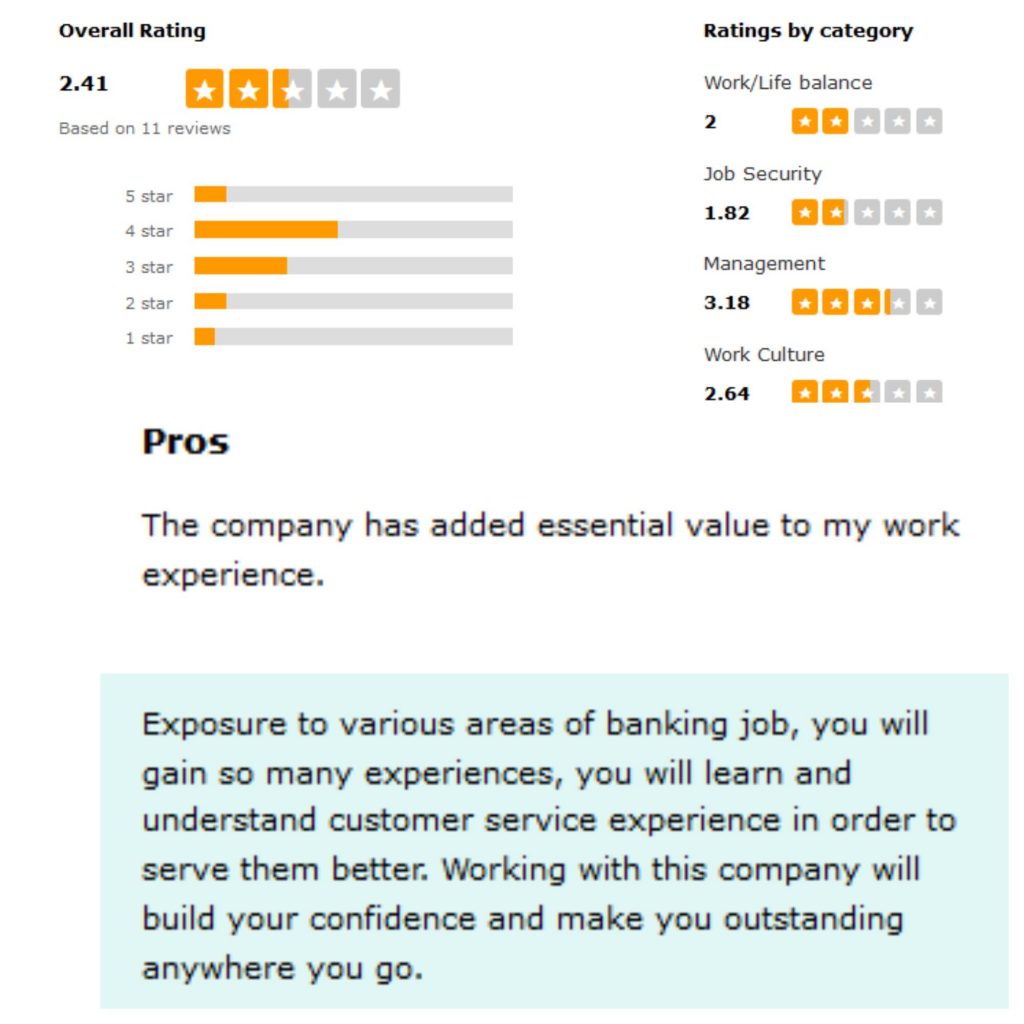 #7: FIRST BANK
First Bank of Nigeriais a Nigerian multinational bank and financial services company headquartered in Lagos. It was founded in 1894 and has over 7,000+ employees. First Bank has been named "best bank brand in Nigeria" 5 times in a row.
It is no surprise that most bankers like working in this company because of its reputation as the best brand. Some of their employees say because of the good reputation of the company, it's easier to market and meet targets.
See what employees have to say about the company below.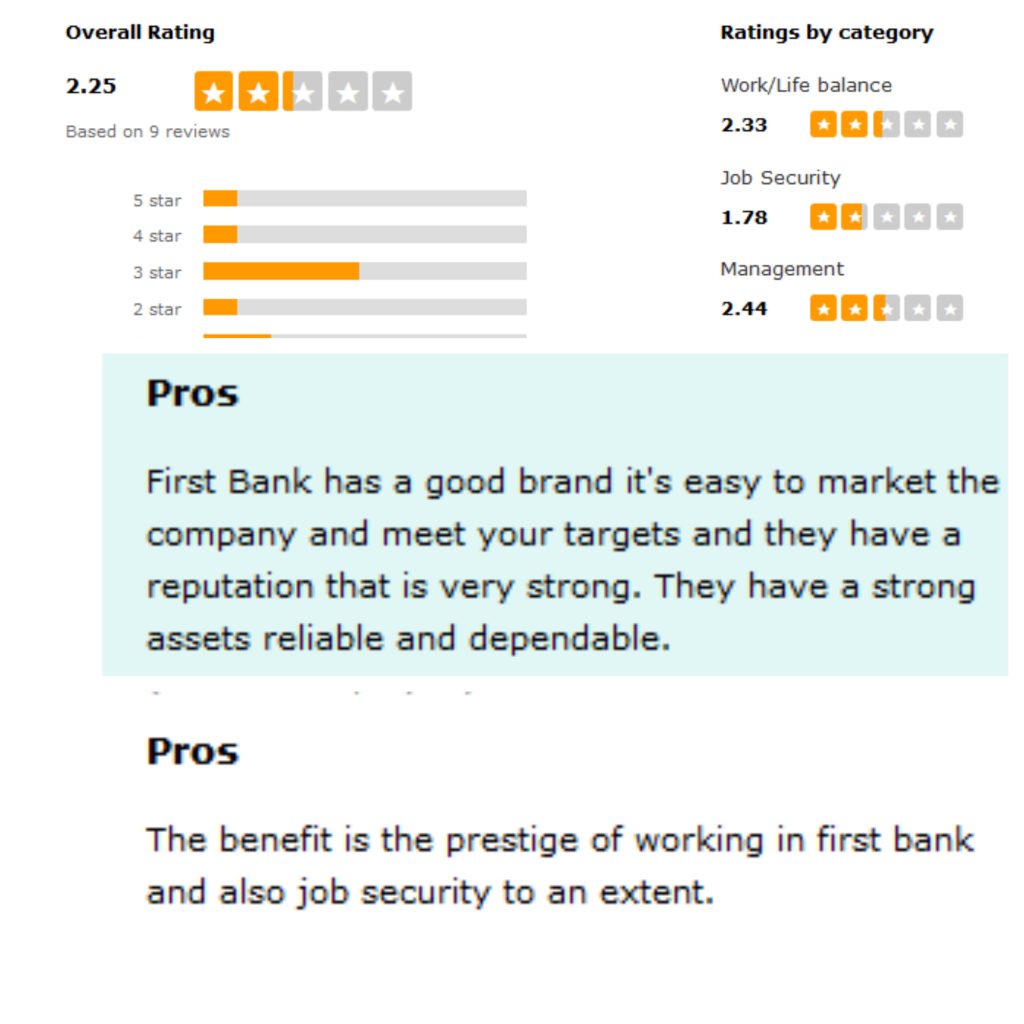 Conclusion
These companies that made it to our list of top companies in the banking industry with the best employee review are companies that employees rave about.
The companies were carefully handpicked from mysalaryscale.com company review page and the review page includes employees' opinions on some of the best reasons to work for their employer, the downsides, as well as ratings on how satisfied they are with their job overall, and key workplace attributes like work-life balance, job security, management and work culture.
What steps have you taken to understand your employees and find out how they feel about working in your company?
Visit mysalaryscale.com today to view your company reviews and encourage your employees to drop a review anonymously about their experiences working in your company.