Ever wondered about the Nigerian borders security and the rules/ policies that determine what happens at our country's border?
We are often told what to take and what not to take (contraband) when we are travelling and these policies affect us directly or indirectly, and the people that enforce these rules are known as the 'Custom' officers.
Do you have the skills to protect Nigeria's residents, economy, jobs and environment by controlling the flow of goods, especially restrictive and prohibited goods, into and out of the country?
Then you are in luck as there is a great opportunity to achieve your dreams of working with the Nigerian Custom Service now.
Am sure most people will be inquisitive about the salaries and benefits of working with this reputable organization and that is why we decided to break down in bits, the ranks and salaries of Nigerian Custom Service workers to help you have a good knowledge of what you are applying for.
In this article we are going to discuss:
The history of Nigerian Custom Service
The duties and responsibilities of Nigerian Custom Service officers
Nigerian Custom Service rank and salary structure, and;
Nigerian Custom Service worker's benefits and allowances

History of Nigerian Custom Service
The Nigerian Custom Service is a paramilitary organization established in 1891. It is an organization supervised by the Federal Ministry of Finance that has several major departments where you can potentially work if you become a Custom officer.
Nigerian Custom Service is a reference and model organization with perfection in giving successful and proficient support and fulfils all measurements of its central goal.

Duties and Responsibilities of Nigerian Custom Service Workers
The Nigerian Custom Service workers are charged with the responsibilities of:
Collecting customs revenue and anti-smuggling efforts and accounting for same;
Security duties;
Generating statistics for planning and Budgetary purposes;
Monitoring Foreign Exchange utilization;
Engaging in Research, Planning and Enforcement of Fiscal Policies of Government
Manifest processing;
Licensing and registration of Customs Agents;
Registration and designation of collecting banks, and
Working in collaboration with other government agencies in all approved ports and border station.
Nigerian Custom Service Rank and Salary Structure
The ranks in Nigerian Custom Service are quite different from other military/paramilitary organizations in Nigeria and their salary structure is calculated based on the rank and level of the officer.
These are the ranks and annual basic salaries according to the structure and hierarchy of the Nigerian Custom Service from the lowest to the highest: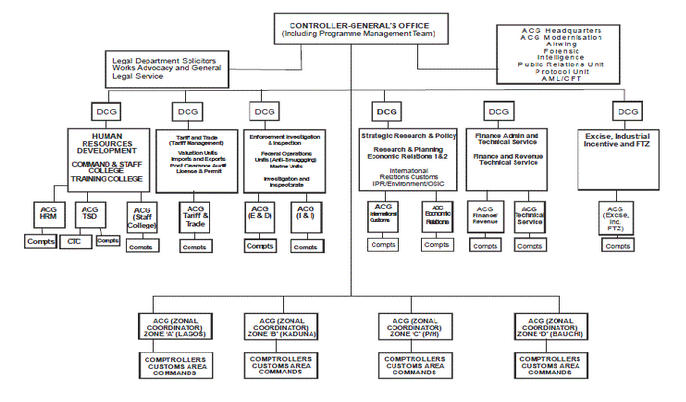 Ranks Annual Basic Salaries
Customs Assistant ₦298,506 – ₦330,321
Assistant Inspector of Custom ₦357,358 – ₦411,484
Inspector of Custom ₦483,014 – ₦567,065
Assistant Superintendent of Customs II ₦888,956 – ₦988991
Assistant Superintendent of Customs I ₦1,012,562 – ₦1,143,539
Deputy Superintendent Customs (DSC) Officer ₦1,094,027 – ₦1,252,038
Chief Superintendent Customs (CSC) Officer ₦1,158,172 – ₦1,325,234
Assistant Comptrollers ₦1,225,584 – ₦1,405,449
Deputy Comptrollers ₦1,619,447 – ₦1,825,589
Comptrollers ₦1,759,829 – ₦1,966,281
Assistant Comptroller-General ₦2,272,288 – ₦2,464,560
Deputy Comptroller-General
Comptroller General
You can apply for the Nigerian Custom Service jobs here

Benefits and Allowances of Custom Officers
Transport,
Meal subsidy,
Utility,
Hazards,
House maintenance,
Uniform maintenance,
General Services,
Torchlight,
Detective
Hardiness allowance,
Plain-Cloth allowance,
Furniture allowance, and
Personal Servant for entitled officers.
It is important to note that the salary structure given above are the annual basic salaries of Nigerian Custom Service workers, beginning from the lowest to the highest rank, and the salaries were computed from the Consolidated Para-military Salary Structure (CONPASS).
See also: Federal Road Safety Commission (FRSC) Salary Structure