Are you ready to get a higher salary in 2019?
Then you've landed on the right page.
Today I am going to tell you about MySalaryScale Salary Calculator and how you can use it to help you negotiate your way to a higher salary.
Working for quite a while without receiving that paycheck of your dreams even though you put in your best in the company can be frustrating.
But are you sure you've taken the right approach to get a higher salary?
Well, just like employers will say "they expect employees to ask for more as long as they are being reasonable", it now depends on your strategy for asking for that salary you need and really deserve.
And this is where salary calculator comes in because it is the starting point for your argument for a raise.
In this article, you are going to learn:
What a salary calculator is
Why you should use a salary calculator
Types of Salary Calculator
How to use the salary calculator to negotiate a higher salary
Alright folks, let's begin
What is a Salary Calculator?
When we hear about a salary calculator, what comes to some people's mind is something that just shows what we should be earning every month.
Even though that statement is correct, a salary calculator is broader and deeper than what we think of it and can go as far as changing people's lives for good.
A salary calculator is a tool (an online resource) for employees and job seekers to compare their salary to others in the same field, industry, location and even their own company to find out if they are being underpaid or paid what they truly deserve.
The most amazing part of the salary calculator is the fact that you can use it when you're thinking of a career change, and also find out what you would earn in the future based on experience and level of education.
Talking about how to use the salary calculator to get a higher salary, I will share with us ways to achieve that in the last section. Let's first take a look at …
Why you should use a salary calculator
You can use it to find out your worth.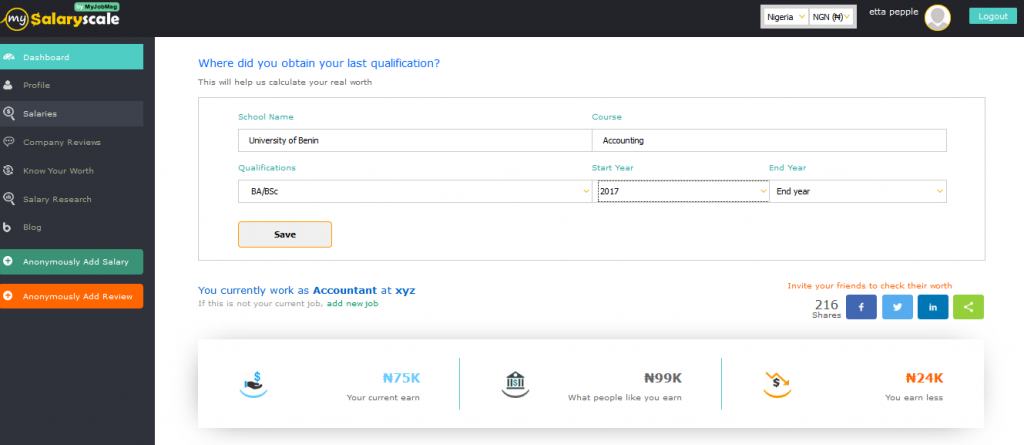 The number one reason I think every employee should use a salary calculator is for them to find out their worth.
You can compare your salary with other people in your field and industry and also location. That way you will know if you are being overpaid or underpaid.
You can use it to ask for a raise
When you use the salary calculator to know what you are worth based on the market rate, you can use your finding as a basis for an argument for a raise depending on your findings.
The salary calculator is proof that you are earning less than you should, and trust me, if you have a strong argument, you'll get a higher pay.
Salary calculator will help you determine a career change.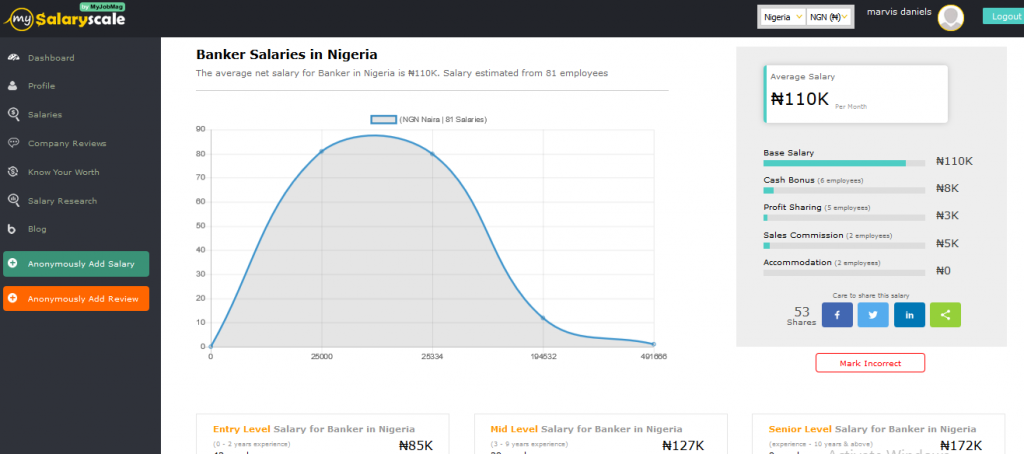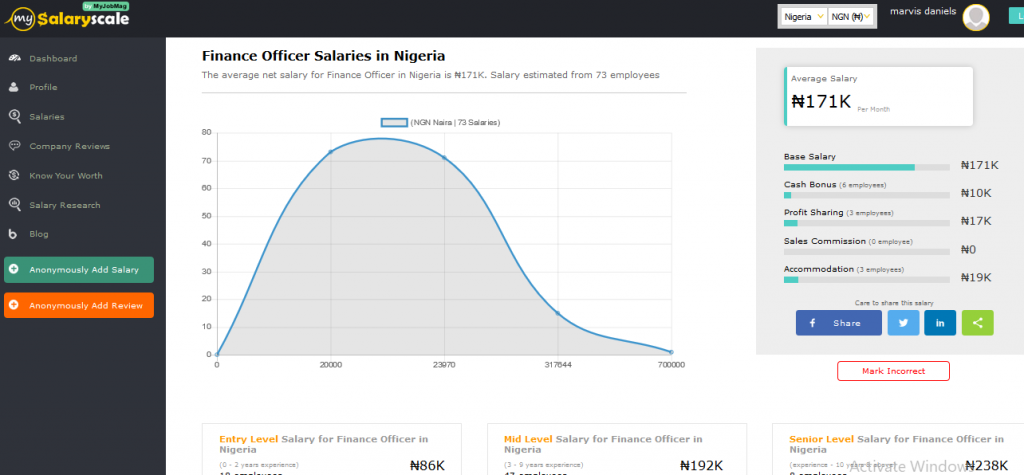 The two images above depict two different roles but still falls in the same industry.
Whether you are already working and want to make a career change or you are just starting off and still thinking of the right career decision, with a salary calculator you can know the salaries of different roles and then you can evaluate which one you will settle for based on the pay you are ready to receive.
Nonetheless, this also depends on the skill and experience you have.
With salary calculator, you can find out companies where you can earn higher.
Companies differ in size. The amount a multinational will pay a data analyst is not the same as what a start-up will pay. So you can also use a salary calculator to know how different companies pay their employees.
There are still so many other reasons why you should use a salary calculator not mentioned here like using it for salary negotiation; or if you're considering moving to a new place. You can find out the particular location where you can earn a higher pay; or even before you get your degree. So why not explore a salary calculator today and testify to a higher salary.
5 Best Websites That Offers Good Salary Calculator
It's a good idea to experiment with different types of salary calculators to ensure accuracy so these are different websites that have a salary calculator you can use.
Payscale
Glassdoor
Salary.com
Salary Explorer
I wouldn't say any of these is 100% accurate but it would definitely give you an average salary range across board.
How to use MSS Salary Calculator to Increase Your Salary in 2019
Talking about how to use the salary calculator to increase your salary, I will share with us about three ways to use a tested and trusted tool "Mysalaryscale" to increase your salary.
Find out what you are worth.
People keep saying know your worth, it may mean different things to different people, yes we also say that but in our context, we mean you should find out how much you should be paid compared to other employees in the same field and industry including the experience.
The only way you can find out what you are worth is by using the MSS salary calculator to know if you are underpaid. The salary calculator takes into account, your experience, qualification, and location and gives you a range of salaries that will let you know what other employees are earning.
That way, you will find out if you are truly underpaid and trust me knowing the average pay for your position is a good start and this can be used as the first step to asking your boss for a raise.
Come up with a salary increase strategy
Knowing your worth can be helpful, but it doesn't end there. The next step is to use your findings to establish the benchmark for your raise request. If you find out your salary is within the market range, then you may not really have a strong argument for a raise, meanwhile you should have some things in mind that can still be helpful.
Think about these:
Are there things you are doing better than others that should make them increase your pay?
Are you doing more than you are supposed to be doing?
Does your work translate into more profit or savings in the company?
Is your boss pleased with your work and at least one year has elapsed since your last salary increase?
If your answer is yes to these questions then you can use the above as a strategy to convince your boss. Meanwhile, don't forget that salary is only one part of total compensation as there are other employee benefits you can request for like commuter benefits, gym memberships, complimentary lunches, vacation, and health insurance.
On the other hand, if your salary is below the market value then you have a strong argument for a raise.
Maybe it's time to use the alternatives (moving on to a new job)
You've exercised your best negotiation skill for a salary increase and still denied a raise, you may want to consider, maybe you'll thrive better in another company or even in another position.
Remember you are not stuck in a place and really shouldn't be but nevertheless, you should not quit your job because you were denied a raise even though there are better opportunities out there.
So before you make that move, make sure you have put a deep thought into it and you are sure it is the best decision for your career and future.
If you have exhausted all your options and still feel like your hard work is not appreciated in the company, then maybe it's time to make a move.
While job-hunting, don't forget to use Mysalaryscale salary calculator and approach all negotiation with confidence. Always refer to your salary calculator to make sure you don't accept an offer that is below your salary range.
Finally, Mysalaryscale salary calculator is that one tool that can help you negotiate a higher salary, earn what you truly deserve and make the right career decision starting from your choice of degree down to making a career change.
Try out Mysalaryscale know your worth tool today to find out your current market value so that you know where you stand amid others in the same company, role and industry.
If you'd need help on career advice, salary negotiation or salary research, you can drop a comment in the reply section below or use any of our social media channels.