MySalaryScale.com carried out a survey of the salaries and salary structure of various employees in Nigeria, cutting across different professions, companies, industries, and the 36 states of the federation. From about 3,500 valid responses gotten from the survey, we have been able to generate analyses of employees' salaries in Nigeria for 2017.  With three-quarter of the year gone already, it will not be out of place to provide the general public ratings based on our survey of employees' salary structure in Nigeria.
See the Current Employee Salary Analyses for 2019
Note: MySalaryScale is powered by Myjobmag.com
Now, the lists below provide a comprehensive rating of top companies, states and professions in Nigeria in terms of their salary structure. It also shows the least professions. The rating is aimed at providing insights to graduates and job seekers in the following areas;
Top 50 Companies in Nigeria with the highest salaries for 2017
Top 10 States in Nigeria with the highest average-salaries for 2017
Top 10 Professions in Nigeria with the highest salaries for 2017
10 Professions in Nigeria with the least average-salaries for 2017
This way, graduates and job seekers will be well-informed and able to take their career decisions in a way that will best meet their financial needs. It will also help them have their eyes on, for employment and career growth, as well as providing opportunities for business prospecting.
The info-graphics below, shows the top-listers and back-benchers of the various categories at a glance.
Info-graph 1: Top 50 Companies in Nigeria with the Highest Salaries for 2017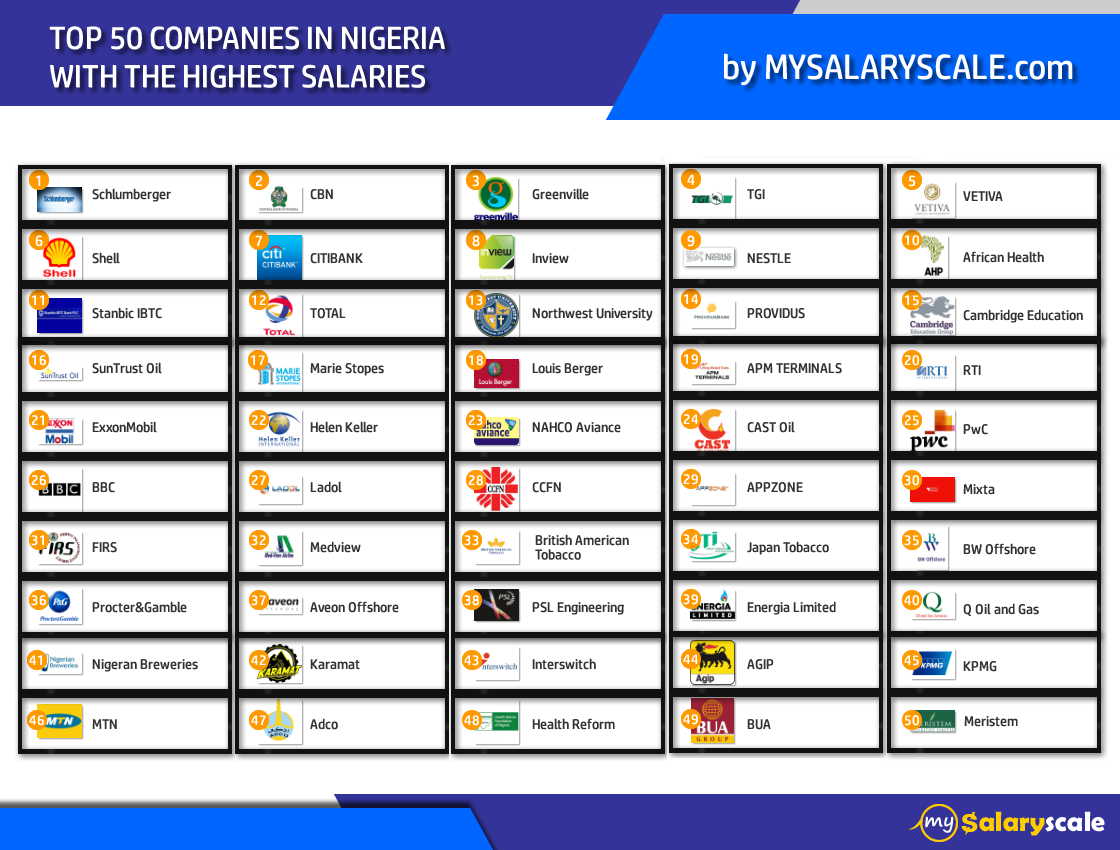 The oil and gas sector still maintains their positions as the best sector to work in, in terms of their salary structure to the employees which encompasses basic pay, bonuses, profit sharing and other financial benefits. They make over 20% of the companies in Nigeria in 2017 with the highest salary.
Although, firms in the banking sector tend to deal with money on a daily basis, it is however alarming to see that only three of the numerous banks in Nigeria were able to make it up to the top 50 list in terms of the salary they pay their employees. And one of them obviously is the CBN.
Multinational companies made over 80% of the list, while local companies constituting just a microscopic few. This suggests the need for local companies to step up their game in regards to their salary structure in order to be more competitive against their foreign counterparts.
Just 5 of the 50 ranked companies are listed on the floor of the Nigerian Stock Exchange which constitutes just 10%. This means most of the companies that pay this much are mostly privately owned or are listed in a foreign stock exchange.
With all the efforts of Teachers and the educational sector as a whole in Nigeria, it's quite alarming to see that just two educational institutions made the top 50 list. In addition, none of these two educational institution is Nigerian-owned. This suggests the need for the government to look into the salaries structures of teachers in public universities. Local-privately owned institutions are also encouraged to step up their game in this regard. See Nigeria teachers and their perceived lack of competence
Surprisingly, organizations that are supposed to be termed "not-profit making" made the list of the highest paying organizations in Nigeria. Most of these NGO's are housed in the North-east part of Nigeria. This is also justifies the reason Borno state made the top ten states in Nigeria with Highest salaries.
Info-graph 2: Top 10 States in Nigeria with the Highest Salaries for 2017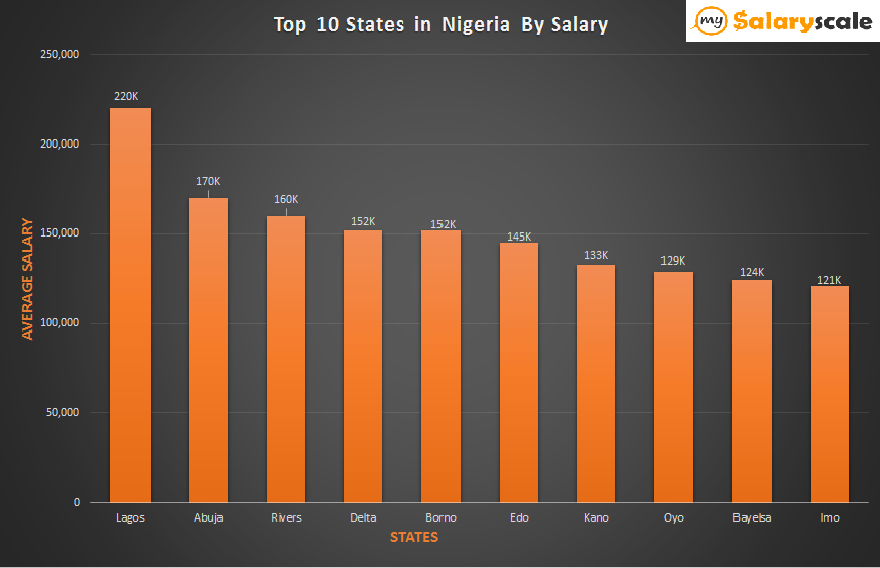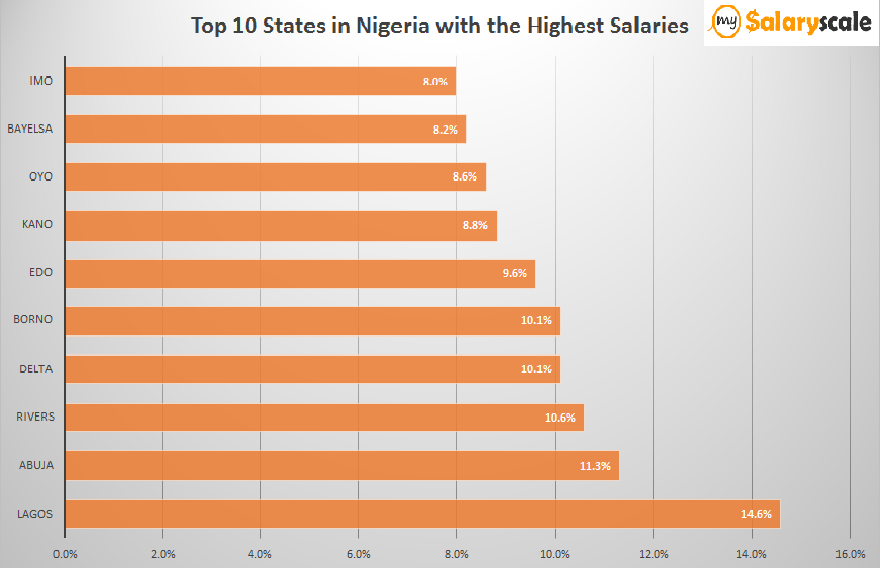 Three of the top 10 lists for states with the highest salaries majorly relies on oil for revenue. This 'oil' also explains the reason why companies in these state(s) pay their employees handsomely. See salaries of states in Nigeria
Seven of the top ten states are in the southern part of the country, with four as the majority from south-south, three from south-west and only one from the south-east. The three other states are well divided across the north, with each representing the three northern region.
Lagos state constitutes about 15% of the entire average salary for the 10 states, showing how far the state has left others behind in terms of rewarding her employees in proportion to their labour. This could be due to the city being the most commercialized in Nigeria among other reasons. It however also has meager pays in some cases, but on the average has the highest in Nigeria. Abuja follows closely with about 11%. With Borno in 5th position with 10%.
Most of these NGO's in Nigeria are situated in the North-east part of Nigeria. This is due to the constant insurgencies in that region. Thus lots of foundations go there to help in different ways they can, majorly to provide healthcare and food. NGO's in lot of cases pay higher than profit making organizations. Most of the Jobs are on contract basis though. Borno being the main state of these insurgencies, justifies the reason the state made the top ten list in Nigeria with Highest salaries. An average medical doctor in Borno earns more than an average medical doctor in south-south mainly because of the cost of hazards.
Info-graph 3: Top 10 Professions in Nigeria with the Highest Salaries for 2017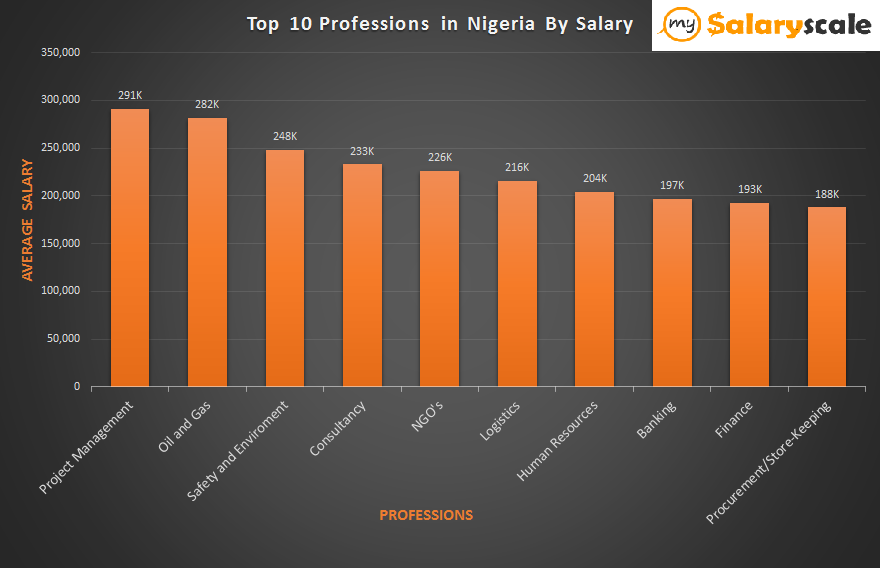 Info-graph 4: The 10 Professions in Nigeria with the Least Salaries for 2017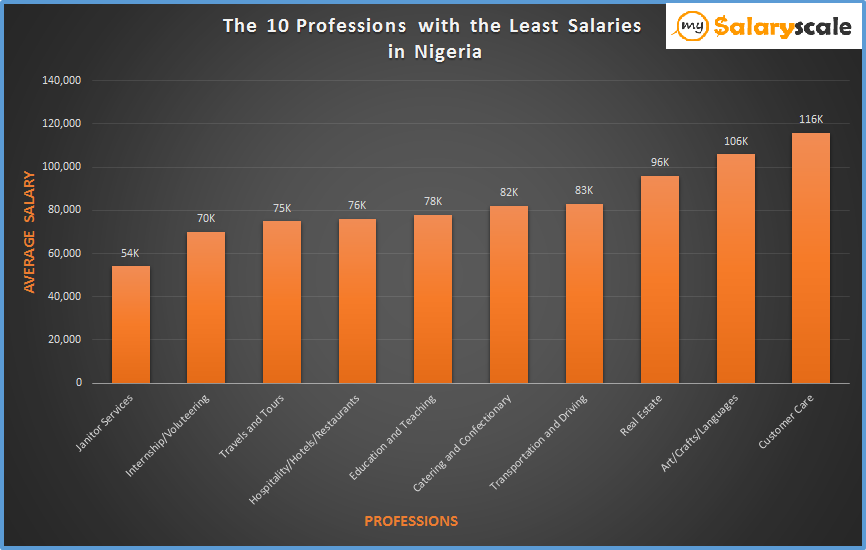 From the survey, it was concluded that for 2017 Project Management is the most lucrative profession in Nigeria with an average salary of 291K. While Janitors sinks at the bottom of the list as the least lucrative profession in Nigeria with an average salary of 54K
Survey Methodology and Respondents Overview
The survey was conducted targeting the degree-graduate employees. An online survey method was used with responses gotten from experts cutting across different professions, companies, industries and states in Nigeria. The salaries are based details gotten in 2017 and some may vary with time.
From the 3,484 valid responses considered in the analyses, the following details about the respondents are as follows;
Data generated were from 1184 job positions
Respondents were from 2086 companies in Nigeria cutting across 34 industries
Respondents from the 36 states of the federation and the FCT were duly represented in the sampling
On field experience, a scale of 0-3 years for entry level employees was used, 4-9 years for middle level employees and 10 years and above for senior level employees.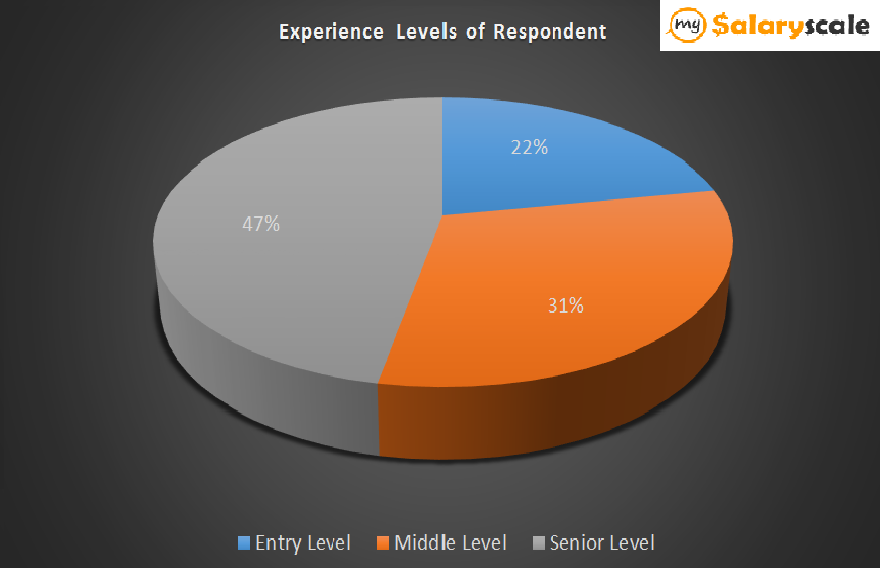 Based on the scale used for the experience level, responses gotten from the employees reflect that a cumulative of 22% were gotten for entry-level, 31% for middle level, and the remaining majority of 47% for senior level.
On salaries, the majority of the respondents, accumulating to a total of 48% earns 100k and below, 17% earns 100k to 150k, 21% earns 150k to 300k, 9% earns 300k to 500k while highest salaries of 500k and above are just earn by only 5% of the 3500 respondents.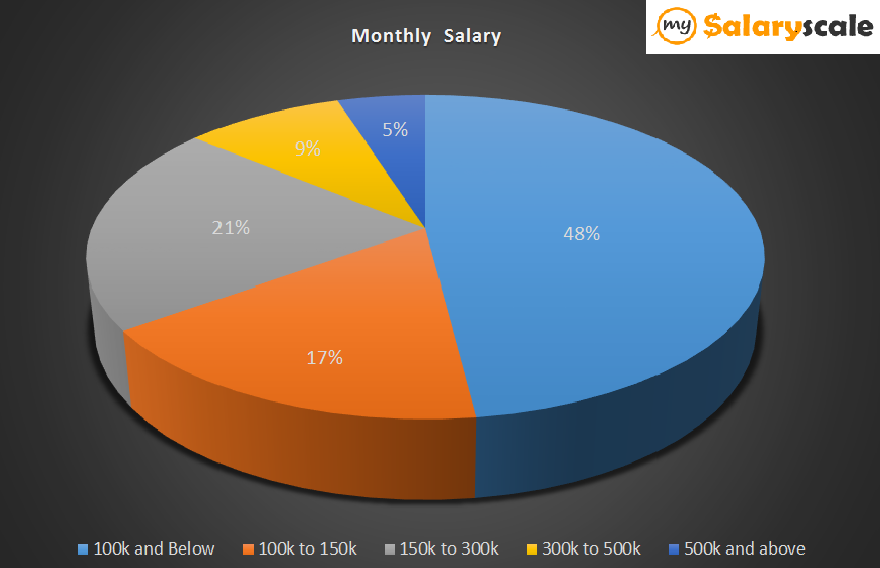 Using this as a sample to represent the total population of Nigeria workforce, it means that while about 48% of the Nigeria working populaces earns less than 100k, only about 5% earns above 500k. This still explains the wide gap between the poor and the rich in Nigeria.
Top 50 Companies in Nigeria with the Highest Salaries for 2017
Schlumberger
Central Bank of Nigeria (CBN)
Greenville
Tropical General Investment (TGI)
Vetiva
Shell Petroleum Development Company of Nigeria (SPDC)
Citi Bank
Inview Nigeria
Nestle
African Health Project
Stanbic IBTC
Total Nigeria
Northwest University
Providus Bank
Cambridge Education
SunTrust Oil Company Nigeria Limited
Maries Stopes International
Louis Berger Nigeria
APM Terminals
RTI International
Exxon Mobil
Helen Keller International
Nahco Aviance
Cast Oil and Gas
PwC
BBC
Lagos Deep Offshore Logistics (LADOL)
Catholic Caritas Foundation Of Nigeria (CCFN)
Appzone Group
Mixta Nigeria
Federal Inland Revenue Service (FIRS)
Medview Airline
British American Tobacco Nigeria
Japan Tobacco International
BW Offshore
Procter and Gamble (P&G)
Aveon Offshore
Psl Engineering and Control
Energia Nigeria Limited
Q Oil and Gas Services
Nigerian Breweries
Karamat Limited
Interswitch Group
NAOC AGIP
KPMG
MTN
Abu Dhabi Company (ADCO)
Health Reform Foundation of Nigeria (HERFON)
Bua Group
Meristem Securities
To get more details on salaries on numerous Job Positions in Nigeria cutting across different companies click MySalaryScale.com
Also do well to anonymously  add salaries and write reviews about your firm.
Powered By MyJobMag